Lucky ? Star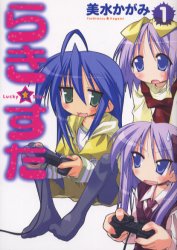 Canada
May 20, 2007 3:02am CST
From the brilliant, or insane, people who brought us The Melancholy of Suzumiya Haruhi comes a... well outright pointless anime. Which is simply to say that it has no actual plot, or storyline. It's just short, rather random sketches usually about daily life for these "chibified" high schoolers. Sort of reminiscent of Azumanga Daioh, but I'll emphasize that this has even less actual storyline than that. While it may not have story what it has is comedy, and a lot of it, well, that and a lot of inside jokes that would be easy to miss. However the fansub group Lucky Channel has done a wonderful job adding in notes about certain things, so you don't have to worry about not understanding all of them.
2 responses

• Philippines
21 May 07
Actually it was only animated by Kyoto Animation (responsible for Haruhi), but it's still good. Not as good as Azumanga Daioh, but about twice as cute. Also, the dance in the opening animation. I've memorized both that and the Haruhi dance :3 It's sort of scary how I don't really rely on the additional notes to understand the inside jokes but that's another matter...

• Canada
21 May 07
I suppose I should have clarified a little more what. :p I haven't managed to memorize either of them. But I've thought about it. And yeah, I've gotten the majority of their inside jokes without needing the help from the sub group. But really you have to be some sort of otaku to get all of them :p Best part so far has been when Kona-chan sat down to watch Haruhi. :D

• Philippines
22 May 07
Oh man, I almost forgot about Lucky Channel. Whenever a part gets too boring and I start getting sleepy, Akira's shrill voice always wakes me up. I liked when she tells Shiraishi that he's starting to sit farther from her, and when he tries to move his chair closer to her she moves away anyway. I wish I could get my hands on the magazine that serializes this. Maybe I'll just wait until they're compiled into books..