Whould you like to spend next 5 years like as you spended last 5 years?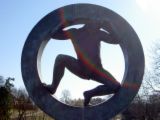 India
May 20, 2007 5:48am CST
I have spended my last five years much strugling for money and I am still strugling but i dont' want next five years of my five as I have passed last five years. I have very big dreams i want to earn as much as to fulfill all my dreams and dreams of my family members. Are you satisfied with your present financial condition? have you struggled a lot for money in past? what are your future plans....
6 responses

• India
20 May 07
As i born and brought in a village of india . i know what money mean for me.In my childhood i strugle a lot that time i use to go my school after walking 5 kilometers. after school i have to go to field to work there. that was about my past in persent i am strugling here in my college as a student i think i will come over all these in next few years as that time i will be able to do something for me my family and even for societyalso. and i waiting for that day only

• India
20 May 07
I think that i would want to spend my next five years like past one. Because my last five years were awesome. They were in my school life. And school life is always fun and enjoyable. I would love it if they come back again. But i know that they wont.

• Sweden
20 May 07
I have been in a situation much like yours the last five years, struggling for money. But I have decided to change my thinking to positive - it may take some time, most of us have been programmed to think negatively, but I am not going to give up - I have some goals and I am thinking of them instead of the troubles. Every day I think of things I am grateful for. This is the only method to make our subconcious to work for us. Positive thinking makes us see the possibilities around us. They may have been there all the time but our brain has been so full of negative thoughts that we have not seen them. Whatever happens, we are always happier when we think of the good sides of life, aren´t we. If you check my profile and website, you may find some ideas that help.

• India
21 May 07
i think no! i want my next five years to be very successful person in life. i have everything, money, job, business everything but still i am not very satisfy with my life. i want to do something extra in my life and dont want to more struggle in life.

• United States
21 May 07
Money is never enough for one individual,if you kept on saving money even for your whole life,you will still needed more,this is how life is.Plus it is a human nature,humans are never satisfy with their condition,no matter how worst their past was,if they want something they get it.Big dreams are good thing,unless you dream big how come you are going to achieve big.Its not in my nature,I never run after money,I just want that much money from which I can eat good,stay good and fulfill all my dreams,it doesn't mean I always wanted to live hand to mouth but do not want to be millionaire.Definitely,I would want good life style after 5 years,not as same as my past,I am satisfied by my present condition but,want to save more for rainy days in future.

• United States
20 May 07
I hope my next five get a lot better, but I don't see how that will happen. I will keep working on it though since thats how it is.