How to STOP my rabbits from

United States
May 20, 2007 7:15pm CST
chewing on all the wires. And potting all over the place. I've put them in the litter box (I was told that they can share w/the our cat) One of them go in the box but she just go in there to go in there(she actually plays in it) I've made them toys brought them toys and especially Hazel(the dwarf 1) chews every cord in my living almost. And shes starting to bite us.
5 responses

• United States
21 May 07
First of all, no they cannot share with the cat. Even if your cat uses some bunny safe type of litter like Yesterday's News, the bunny should NOT share with the cat. The rabbit is going to make the cat disgusted because rabbits don't bury their poops, and the cat also is not going to appreciate hay in the litterbox. So, go get another litterbox for your rabbits. One for each if possible. If not, make sure it's kept clean. Always have hay in the litterbox. They'll eat and poop at the same time. I would recommend buying a puppy pen and some linoleum. Protect your floor with the linoleum, put the puppy pen around the rabbits to give them a boundary for now. Once they get the hang of the litterbox, let them have more room. The other thing is, some rabbits are chewers and some aren't so much. If you have chewers, you're going to have to rabbit proof things. Put plastic sheaths over your cords (you can buy them at Home Depot). Make sure nice furniture cannot be chewed by the rabbits. You might have to block them from some rooms. As far as dwarfs biting... dwarfs are mean, sorry. That's just how they are typically. Part of it might be that she's territorial, but part of it is also probably that she's a dwarf. One more thing... are the rabbits spayed/neutered? If not, that would explain a lot of the problems here (aggressiveness and the litterbox issues). Hope that helps! Check out www.rabbit.org for additional info. www.bunnybunch.org has some really good info too.

• United States
21 May 07
No neither of my rabbits are fixed. And my dwarf rabbit (Hazel) is very mean, she even look mean its a shame. But I will look into getting them fix. Hopefully everthing will be said and done no later then August.

• Netherlands
21 May 07
Put them in a cage and leave them there unless you want to pet them. Rabbits pretty much act like rodents and simply tend to chew through everything they come across, especially the plastic or something in it around the wires is what many tend to love.

• United States
21 May 07
Thank you so much PsychoDude becasue that is what I've done but i felt so bad that they can't get some exercise.

• United States
21 May 07
It doesn't need to be a small cage. My rabbits have 16 square foot puppy pens. Don't buy a pet store cage, they don't really make them big enough for rabbits. You'll want to go with an exercise pen setup. Not all rabbits chew though. And actually, a lot chew more than rodents (rabbits aren't rodents). I have one that is an avid chewer and even now that he's 11 years old, he still destroys things. He used to destroy my shoes, wicker baskets, etc. Eventually, I gave him his own wicker baskets. But he still didn't know mine from his. My other rabbit doesn't chew a thing, not even her toys. She'll chew a metal gate for some food, but only because that's her way to make some noise. However, she can't have free run because my room is all carpet and she's a digger. So both have a nice large area, but neither can be free range. However, I do plan to move into a linoleum floored place eventually and then the one rabbit can run around all the rooms hopefully.

• United States
9 Jun 07
rabbits will pick a place to potty I start mine in a cage place the litter pan in the corner of the cage where it pottys the most after it is using it good you can let it out into one room with the litter pan in plain site if it starts going in a corner move the pan to that spot also you probly wont get it to poop all the time in the box but it will pee there the let the area get bigger a l;ittle at a time I would also suggest a box in each room it is alowed in as for wires run them through a pvc pipe so they can chew on them rabbits are natural chewers good luck and enjoy your bunny

• Singapore
26 May 07
You have to wired - proof your house in the sense that you have to wire up all the possible places that a bunny can go there and bite and it is alot of work. Good luck !

• Malaysia
21 May 07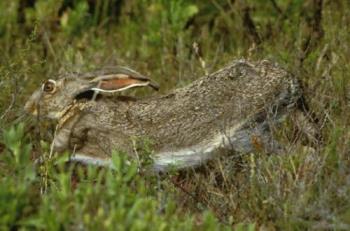 Yes,rabbits are always like that,previously,i have my pet rabbit too.We can't stop them to bite things.They almost bite everything they see and potting everywhere most of the times.They can't stop that.I put my rabbit in a square wooden cage..the wood is from plywood type.They even bite all the plywood until half of the plywood surface they peeled and ate it too!!Their front teeth are really strong.So they tend to bite people too.Just be careful with their back legs too.It's very painful when you carry them and they kick you hardly.