SQUIRRELS- Sometimes you just gotta love em for their antics.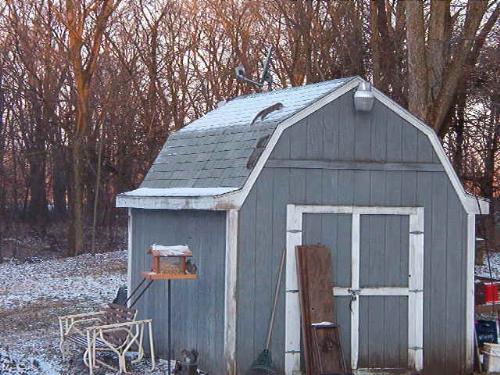 United States
May 22, 2007 12:18am CST
Was watching the birds eating one day and witnessed the squirrels coming to do their routine morning raid on the feeder. This feeder in particular a friend made for me and holds a 4gallon bucket of bird food, roughly 10 lbs. Figured it was the only feeder that could handle the onslaught of over 20 squirrels so I set it in a convenient spot for them. I just love watching them in the morning and getting a good laugh to start my day on a positive note. 4 are shown but there were 5 more on the ground and lot more in the nearby tree as well as a couple who were still trying to figure out how to get to the other feeders (they never did figure out how lol).
5 responses

• United States
22 May 07
I gave up, the cats like the squirrels better any way so I put critter food in the feeder. The feeder hangs just outside the cat's play pen & I watched Ping reach out of the screening & touch a squirrel's tail one day. I don't know who was more surprised!

• United States
22 May 07
LOL Would of loved to seen that. One time when this feeder was full, there was a squirrel on the opposite side of it eating. I snuck up and actually stroked it's back. I've never seen a squirrel jump and flip so fast like this one did. Poor thing hit it's head on the roof and fell off in a daze b4 running to the tree. Still, I had a great laugh over it. lol

• United States
22 May 07
What did that feel like? My former roomie used to work on campus some of those squirrels were so tame they'd come up and take food from your fingers. Once she was feeding them something & when she ran out the squirrel peed on her! LOL

• United States
23 May 07
Very soft and thick being it was winter. Never been peed on b4 by any animal other than toads. lol Guess the squirrel was telling her next time, have a stockpile of food. lol

• United States
23 May 07
I love watching the antics of squirrels. They are so funny. I used to work at a state park in the mountains, right in the middle of the redwoods. So there were plenty of squirrels, chipmunks, and many other critters. The funniest thing to watch was 2 or 3 squirrels on this redwood tree right across from the headquarters building. They would chase each other around and around the tree, working their way all the way up, and then back down again. It was hilarious. We also had a resident raccoon that would get stuck every night in the garbage can next to the door of the outer office, and I would have to go out and gently tip the can over on it's side and take the lid off so he could get out because he was fat and hunchbacked and couldn't get out once he was in. We became pretty good friends too. LOL

• United States
23 May 07
Bet that was awesome working in the mountains. I would love to live in them and become totally self-sufficent. My squirrels love to play tag in our yard as well long as I keep the dog inside.lol Fun watching them chase each other then up one tree, cross to the next trees branches, then back down that tree and on and on. I bet that raccoon was always relieved when you came and let him out of his self-made prison every morning. No wonder you became good friends. Could of saved him the embarrassment of having to be freed every day by just tipping the can over for him every nite so he could get out on his own. lol

• United States
23 May 07
Actually, it was every night that I would let him out. I had the 3:30pm to midnight shift all summer, so he didn't have to suffer the humiliation of being seen in the mornings by all of his friends. LOL He did have his moments...he would manage to get the can rocking back and forth until he knocked it over himself and got out, but I always tried to get him out before that because he would be so winded from his efforts. I miss living there in the redwoods. I live in the valley now, and hubby was born and raised here, so I don't think I'll ever get to move back. LOL

• United States
22 May 07
Too funny. I watched a show on BBC (British TV) the other day. It was basically a test where they set up many different mazes and or puzzles for squirrels to figure out in order to get their nuts as a treat. It was hilarious seeing some of the antics they perform and endure just to get a small morsel. Thanks for sharing this with us also. I moved my feeder as the squirrels ate the treats before the cardinals and finches got a chance. HAPPY POSTINGS FROM GRANDPA BOB !!~

• United States
22 May 07
That's why I kept my umbrella clothes line up all winter. It did double duty as a bird feeding station. I put an upside down ice cream bucket on it so the squirrels couldn't raid those feeders. It was funny watching them try to jump up to the feeders when theirs ran empty. I was seriously thinking of saving my milk jugs and other containers to make some sort of maze for the squirrels to have to figure out to get to their food. They sure are smart lil devils. lol Gonna make a feeding station just for the squirrels this winter. I've seen the ones they sell in stores and thought 'Why pay $20 for theirs when I can make one for virtually free using stumps or logs that are all over in the woods.' Cheap peanut butter spread on the bark of trees is a treat they love also.


• United States
15 Jul 07
Squirrels are such adorable little things. I just wish they'd stay away from the road, they stand straight up, and it's hard to see them until you get up to them. I think that's why so many get hit by cars.

• United States
17 Jul 07
They stand straight up in order to see around them better. Wish all animals would stay away from the roads but there are times they have to cross them because the roads go right thru their territories.

• United States
17 Jul 07
I know, I know that people need places to live and all, but I still hate the fact that we're invading animal territory. It's so sad for them.

• United States
23 May 07
They are fun to watch. At our old house we had an all white squirrel and he had pink eyes. They can get rather loud too. The part I do not miss is when they would bite the powerlines. Power would pop off I would go out find the dumb butt that bit the line and call the landlord AGAIN. THey did it all the time!

• United States
23 May 07
Wow! I never had our power lines bit by squirrels or any other creature. We did, however, have a raccoon get into a main power box and short out alllllll the wires. Noone in town or outside of town had power till ComEd was able to fix it. Care for some well-fried raccoon? lol They can be loud but it doesn't bother me. I grew up in the country and prefer that to the city anyday.