Hey Gals, Do you like Muscular Men, like the wwf superstars?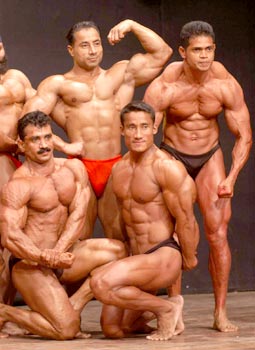 India
May 22, 2007 7:19am CST
Hi, this question i put forth to my comrade gals her in mylot, just out of curiosity. Becoz you know, Itz my wish to have a muscular body right from the school days. So, I even enrolled myself in the fitness club, and always try to go regularly,yeah i plan to the nicely but never go,but once in a week, for the rest of the days finding lame excuses of not attending.lol. Hence building a muscular body,the chances of it vanished. There on, i maintain a slim physique. and started advicing others to have a slim physique. How is it?
5 responses

• Bulgaria
22 May 07
Blaaaa...bodybuilders...they are the less sexy men i ever no. Only muscles, no intelect and in addition- so much pompous self-confindence that i am seduced to give them a lesson. Person who cares so much about his body and almost doesnt care about his culture sucks! Show me bodybuilder and intelectual and i immidiately will choose the second one.

• India
22 May 07
Hi Magica, Thanks for your comment, BTW i assure that i'm not a body builder,but i try to fit myself in your category of Intellect. Ha haha, Boasting myself, as none says. lol God bless you.

• Philippines
22 May 07
no, i really dont guys who are like that. too much muscles are really gross to look at. i prefer guys who have thin frames but broad shoulders. :) just mainain your slim physique, it is better than those body who are full of over bulging muscles.

• India
22 May 07
Oh that is a nice good response and like it so much as you are against muscle men.lol.For me, One should maintain a good fitness and must be agile( like me,(ha ha)) so that his day to day activities is not hindered by any means. Am i correct? BTW do you have a slim physique? Any way thanx for your response.

• Philippines
22 May 07
Hell NO! I like a muscular men but not very muscular like John Cena. Swimmers body is a good example of how I like for a body. It's slim, fit and has long lean muscles. I feel scared with people with gigantic biceps. I feel that whenever they move they might hit me and knock me out.

•
22 May 07
I hate big muscles on a man. All the veins stand out, and I find it quite disgusting to look at. Smaller, more controlled contours are ok, but big muscles... uggggh! Besides, if a guy spends years building up his muscles to such a size, when he gets older and stops working out, the muscles turn to fatty flab and again look disgusting. What is the point in putting themselves through that torture in the attempt to attract women, when a lot of women don't find muscles that size at all attractive? It seems like a bit of a waste of time to me.

• United States
9 Jan 09

I do like the men that are in the wwf. They are very much in shape and I find them very attractive. I think it might be natural for woman to be attracted to a buff man with muscles. However it is not always the most important thing. It has a lot to do with your personality as to what a woman might like.