Wild Cats of Buenos Aires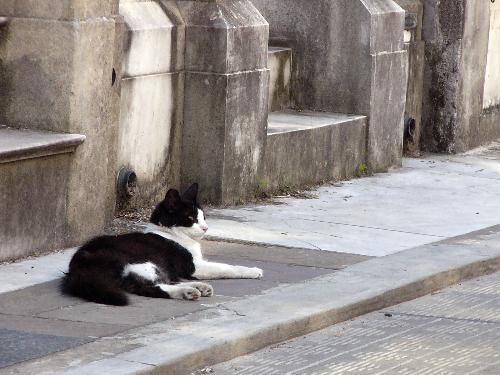 United States
May 22, 2007 11:12am CST
I recently moved to Buenos Aires, Argentina, from the San Francisco East Bay Area. I am simply amazed by everything to do with this city, the most cosmopolitan of all the South American cities. Having over 14 million residents and a cultural scene that is amazing, it is often referred to as "The Paris of the South". There are wild cats all over the city, especially in parks such as the Jardin Botanico Carlos Thays (the Botanical Gardens) and the Cementerio de la Recoletta (the Recoleta Cemetery) where Evita Peron is buried. What is also interesting is that people go to these places daily to bring food to the cats. I have also been told that people here to not go to pet shops to get pet cats, instead they just go somewhere like those two places and take a feral cat home with them, a young one of course. I am a freelance photographer and love taking photos of the cats here. I am considering publishing a book about the wild cat population here. While they are wild, they are so accustomed to people being around all the time that they are quite tame and will even come and sit in your lap. I go to both those parks often and have made friends with some cats at both places in particular. Anyway, I thought I would share the cats of Argentina with you all and would welcome comments, idea, or stories regarding cats in your own cities. I know where I just moved from, Livermore, California, they have actually passed city ordinances banning feeding cats and are making an effort to kill or remove all the wild cats from the parks. I am quite pleased to see that no such effort is underway here.
3 responses

• Kottayam, India
22 May 07
Being in South America how you feel, feel foreign to new environment.Lushy green forest,beautiful landcape, mountians with small waterfalls, all the best my dear.Can u take me there ?

• United States
22 May 07
Well, my feeling regarding being in South America vary some from day to day. I lived in Europe for nearly four years when younger and I think the transition here was easier having lived in a foreign land before. Argentina is a very large country, like your own, and has a diversity of landscape. Buenos Aires is the largest city with a population of over 14 million in the metroplex, which is substantial in any country but especially one with a total population of only 40 million. There are the glaciers down south, forest lands, grasslands, mountain ranges, the Atlantic ocean, rivers............Buenos Aires itself is a city of many skyscrapers and tall buildings. It is also a city of vast numbers of parks, statues, art, and culture. Sometimes I take a ferry (1-3 hours depending on the boat) across the River Platte to Uruguay and I love spending time there in Colonia de Sacramento, a small town established by the Portuguese in 1680. It is an incredible trip and I love taking photographs there. I have a lot of photos on another website: http://wynnwoods.spaces.live.com/

• Kottayam, India
22 May 07
Thanks for your kindness and look forward to see all photos as soon as possible.Thanks

• Argentina
18 Jun 07
Sorry to tell you, the rest of south america, including argentina, have all those landscapes you describe. But Buenos Aires is a huge city, near the river coast, so no mountains, no green, no waterfalls for us!! Only tall buildings and riverside walk, snif...


• Argentina
18 Jun 07
So you're a freelance photographer! the dream of my life! I thought in this country you could never make a living out of that, unless your the best, of course. I'd rather shoot buildings, but cats are really nice, especially here in Buenos aires. The only part of the world I've seen so many stray cats in public places is Rome. Since we hace 15 million descendants of Italians here in Argentina, maybe we got that from them?


• Argentina
18 Jun 07
Hey, GREAT PICTURES! I'm glad you enjoy living here!! You can see some of my pictures at http://www.shareapic.net/content.php?gid=86611&owner=rovi but they're nothing compared to yours, I even don't have a good reflex digital camera yet!


• United States
18 Jun 07
Feral cats are an interesting phenomenon in cities such as large as this one. All in all they seem more tame than many that are pets in my own homeland, the USA.