Do you spread diseases?

United States
May 22, 2007 11:39am CST
I had a neighbor come to visit me when she was sick. She was sneezing and coughing and had a fever. She went to the doctor and he found she had bronchitis. Now I got sick, and have been sick for a week. She apologized for visiting when she was sick, however, that doesn't help me. The apology is well taken but I am still sick. Why do people visit when they are sick? Why do people go to work when they are sick? It doesn't make sense.
8 responses

• United States
22 May 07
I never go to other peoples house when I am sick.Although the woman I babysit for thinks it is o.k. for me to pick up her kids from daycare when they are sick.Can you imagine the daycare calling her and telling her her child has a fever of 102 and her asking me to pick her up?And yes I did end up sick.As did my husband and son.The mom never got sick.

• United States
22 May 07
Opps! I hit the "post comment" too fast and forgot to say "HOPE YOU FEEL BETTER SOON"


• United States
22 May 07
I don't understand why people visit others when they are sick. It makes no sense. I am sorry that you have gotten sick also. I hope you feel better soon.

• United States
31 May 07
Hi naty! Sorry to hear you're sick. Hope you start feeling better soon. I'm pretty sure some people don't even think about it. Sneezing and coughing at this time of year is pretty common, but if you have fever you should stay home. That's why they send kids home from schools when they're running fever. Less chance of infecting everyone else. ~:0

• United States
31 May 07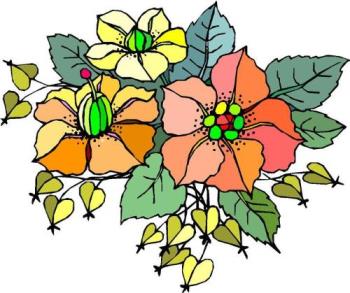 Sometimes people have to work when they are sick especially if they work in place where there are only a few employees. But they could wear a mask,be sure to wash their hands frequently, carry hand sanitizer. always cover their mouth when coughing or sneezing, and if they use the phone always sanitize phone after using. Neighbors should be more considerate and mot visit when they are sick. Hope you are feeling better. Here's a bouquet for your quick recovery

• United States
31 May 07
Thank you for the flowers they are gorgeous. Yes I have had occasion where I had to go to work when I was sick but I tried to stay in my office and not visit the co-workers. However, if I had a fever I would stay home and in bed.

• United States
4 Jul 07
I just can't stand it when sick people make the decision to be amonst the general population. There's nothing worst than being around people who are coughing and spreading germs. I try to hold my breath until I get away from them. I get really paranoid about that. I hope you are feeling better now. Lloyd

• United States
4 Jul 07
Glad to hear you are feeling better. A month is a long time. Today is my birthday, but I'll be celebrating it tomorrow on the 4th by going to a couple of cookouts if the weather is ok. Thanks. Lloyd

• United States
5 Jun 07
I hate that. some People just are not considerate of others in that manner. I f I am sick I will try to stay home or tell people I am before they come over, so they can make the choice. I dont know why people do this but it is irritating.

• United States
14 Jun 07
It is definitely rude to visit when people are sick. As for work, there is so much pressure on people to perform that they feel that if they call in sick they will be looked on less favorably. I was at an event recently where a child with a cold coughed all over the food...Mom's response - Family germs...they don't count! Surprise they do. We live in a society where people think that there needs are more important then the needs of other people..IE: I want to visit with you and I don't care if you get sick. Very selfish society we live in.