In Malaysia, our traditional dish is 'Nasi Lemak'. What's yours in your country?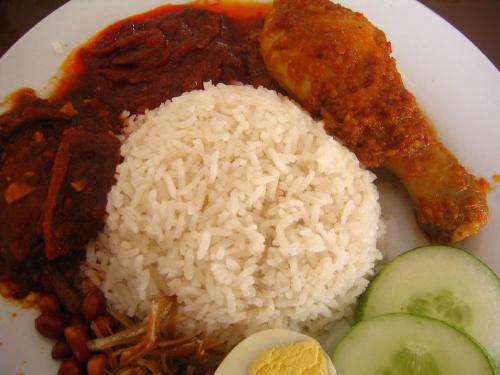 Malaysia
May 22, 2007 4:07pm CST
'Nasi Lemak' can be directly translated as rice fat.. But it's not exactly that! It originated from the Malay race and it is superrr gooodd!! =D Traditionally, it's actually rice cooked in rich coconut cream and served with spicy 'sambal' or gravy, cucumber, a hard boiled eggs, and fried anchovies.. Nowadays Malaysians eat it with all sorts of side dishes like chicken or lamb curry, cockles, and cuttlefish.. What's the traditional dish of your country? I know many of you are from Philippines and I'm curious as to what your traditional food is.. Please share..
5 responses

• Philippines
23 May 07
Actually here in Philippines we have so many traditional dish to chose from. If you will visit Batangas province you will have taste "Sinaing na Tulingan". Its a simple gradually boiled fish which looks like small tuna with salt, dried kamias, and sometimes pork fat is added to make it more delicious. It is being serve with fresh local tomatoes and its getting better when stored and re-heat for days. What is special in that dish is its sauce which is called "patis" in Tagalog word. That patis alone with plain rice is good enough for a meal.

• Malaysia
25 May 07
That sounds very appetizing! I love food, especially Asian food.. I define being adventurous as trying different food.. I hope I can visit Philippines one day and try all the great local cuisines!

• Portugal
22 May 07
In Portugal, a traditional dish is cozido a portuguesa. It is a mix off all type of meat with potatoes. All cooked together. I don't like it much because there is much fat meat.

• Malaysia
23 May 07
Woww!! That sounds so good! I love meat! hehe. I'm sure it is really fatty but it must also be very delicious! Just need to exercise afterwards then.. lol.. I think that's something I must try when I ever reach Portugal! Thanks~!

• India
22 May 07
In India We have lot of Traditional dishes According to States And areas........... In our State The Traditional Dish is "Hyderabadi Briyani" can be directly as "OIL RICE With Spices & Chicken (or) Mutton".......... These dishes are made in every Marriages and Function...... These dishes are most famous dishes of our Andhra Pradesh.......People Come to our state especially to Eat these dishes from all over the india These dishes are favoraties of everyone in Andhra Pradesh

• Malaysia
23 May 07
In Malaysia we also have Briyani Rice.. I'm not sure how similar it is to 'Hyderabadi Briyani' though.. It's also cooked together with chicken or mutton. I really love it! I think I would definitely love the authentic 'Hyderabadi Briyani'!!

•
22 May 07

Im from the England and our national dish is good old fish and chips, very nice but some people think otherwise.

• Malaysia
23 May 07
One day I MUST go to England and try the fish and chips!! I know it's so ordinary but it's a classic! The fish and chips here suck! My friend says the fish n chips in England is soo good! I gotta have it one day!!

• Canada
22 May 07
In Denmark we have all kinds of traditional dishes, from seafood to Danish-style hamburgers in gravy serve with potatoes, and don't forget the famous Danish pasteries. I also love a good roast of pork with sugar coated potatoes, and red cabbage, with lots of gravy. You can find all kinds of Danish recipes in the English language cookbook of Danish recipes I published in 2005. Tak For Mad ISBN: 1-4116-3456-X Buy an E-Book, help save the planet! http://littlelemur.com/Tak%20For%20Mad.htm Print copies also available. http://www.lulu.com/content/116633

• Malaysia
23 May 07
Ooh, I love Danish pastries.. There are some bakeries here in Malaysia that make Danish pastries but I don't think they're as good as the original!