My Daughter in the Mud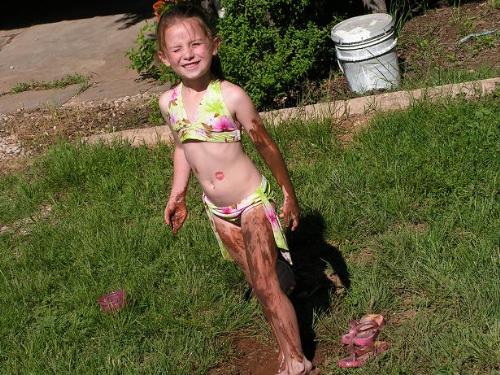 United States
May 22, 2007 8:53pm CST
My daughter was playing in the mud a few weeks ago, she started squishing her toes in the mud then I told her to cover herself in it...and she did!! It was so funny!! My little boy ran over trying to get it off of her!! She had so much fun, and washed it off in the sprinkler!
7 responses

• United States
24 May 07
Your daughter is adorable. But let my tell you, You are a bigger person then me. Cause I dont think I would have been able to just watch my kids cover themselves in mud. But hey as long as you all had fun that is all that matters.

• United States
24 May 07
I really don't like my kids getting dirty either, but I have been trying to relax and let them have fun more. It isn't going to kill me (even if it feels like I can't breathe) if they get dirty and make a mess as long as they are having fun! The smiles are all worth it.

• United States
23 May 07
Oh how cute! It is so fun watching kids enjoy stuff like that because once they get older, they will only want to watch others play in mud but won't get in anymore themselves. Enjoy it while it lasts!

• United States
24 May 07
Thanks!! I definitely try to cherish evey moment!! Sometimes I sit back and watch them playing and enjoy the smiles and silliness!! I know they will be up and grow before I know it...and I will be an old women =)

• United States
23 May 07
Your daughter looked like she was having fun. Did she have lip stick kisses on her tummy? I love to watch children play and get dirty, children seem to stay inside so much of the time I am glad she is not afraid to be outside and to play in the mud. My old sister and I use to make mud pies for my twin sister and she would eat them. Mom was afraid she would get sick eating the bugs in the mud so she bought a duck and some chickens. Well then my twin ate mud pies with duck and chicken poop in it. LOL We where only 3 or 4 at the time. I do not remember my twin eating the mud pies I remember playing in the mud and the ducks and chickens. Mom also had a rooster who was mean. He flogged me and chased me around the house. I can remember he kept attacking me and mom would not let me in the house. Mom use to lock us outside or in our rooms. Finally mom let me in and the rooster went away. Mom said she had to lock us in our rooms because we here bad children and that was the only time mom got any work done in the house. Mom never in her life cleaned the house. Our Grandmother use to come over and clean it for our mom, and at the age of 5 we where mad to clean the house.

• United States
23 May 07
It is a temporary tattoo of kiss marks, lips whatever =) She always makes mub pies and I pretent to eat them, and every time she is like, "MOM did you REALLY eat that??" uumm...no sweetheart I love you and everything you make but I won't eat your mud pies =)

• United States
23 May 07
I bet she looks so funny with all that mud over her. I guess your little boy got it all over him also. It is so great to hear that you let her be a kid and get it all over her, and then wash it off with the sprinkler. Keep having fun with your kids!

• United States
23 May 07
Awwww. I bet that was so cute and so messy, laugh out loud. I let my daughter do that one time because it was my husbands idea and he got the job of helping her to get cleaned up. I always tried to keep her as clean as possible buthe let her play in the birthday cake and all, laugh out loud. I bet that was funny that your little boy tried to help her get it off. I bet he was trying to keep her clean. I bet they had alot of fun in the sprinkler.