Do you hang your clothes in your closets or keep them in bureaus?

United States
May 23, 2007 7:33am CST
do you like hanging your clothes in the closet or keeping them in bureaus? My dad's always teasing me cause I don't use bureaus. I keep all my clothes in my closet.I don't know why.I even have a special drawer rack to keep my underclothes and socks,etc. I really don't like bureaus as they take up a lot of room . What about you?
9 responses

• United States
23 May 07
I hang most of mine, except my shorts capris and undies. My good clothes, dress cloths get hung up on padded hangers , zipped into suit and dress bags and hung in an antique ceder wardrobe. I like nice big pieces of bedroom furniture. I think it has something to do with my love of the Victorian age. Sweaters also get folded and put in drawers.

• United States
26 May 07
Actually ,I use to like dressers but for some reason, in the last 5 years or so ,I really don't like them and think of them as a waste of space. Isn't it weird how people's likes and dislikes changes over the years?


• United States
26 May 07
I have space savers in my closet .I really like them cause i don't have to dig through drawers.My bras,socks, etc go in a pull out rack that has sides but no top so I can go right to them .I wish they had these kind of space savers when i was a kid!

• United States
23 May 07
I use both the closet and the dresser. I keep my underclothes and shorts and tee-shirts in the dresser and hang the rest in the closet. I agree dressers do take up alot of room.

• United States
26 May 07
I know I go a little over board packing everything int the closet but that's how I like it. I have more room for what collectibles I have

• Canada
23 May 07
There are three piles of cloths 1 dirty 2 dirty but can be worn if needed 3 clean when the dirty pile is larger than the clean pile time to do laundry.

• United States
26 May 07
My brother would always sort through the dirty clothes for stuff that he could wear,just so he wouldn't have to wash lol

• Australia
24 May 07
I use both. I keep my underwear, socks, t-shirts and shorts in my dresser. My shirts, jeans, skirts and coats all hang in my closet. I also keep all my shoes on the floor in the closet. I keep my jumpers in the closet, but they are folded and kept on a high shelf. I'm pretty organised when it comes to my clothes, friends laugh when they get a peek because they think I'm so anal!!!

• United States
26 May 07
I am also well organised,in fact I have been called anal,a neat freak,you name it,lol. I have a couple of pull out racks that have sides but no tops,I keep my undies in one,my bras in another etc.

• United States
27 May 07
oh yea.all in a row,labels front ,categorized and alphabetized.

• United States
23 May 07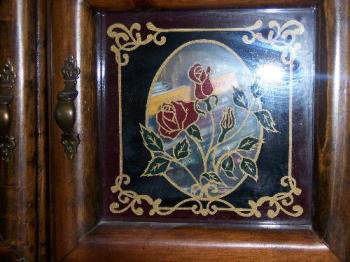 I use both....most of my things are hung in the closet....except underclothes and my pj's... I have an antique bedroom set with a matching bureau...with a large mirror and roses etched into the glass....it is very special to me....

• United States
24 May 07
Its very beautiful indeed.

• United States
25 May 07
Angelwhispers, thanks so much...I truly love it....It was manufactured in New Jersey and transported to Oklahoma...where I bought it and have carried it around for several years...the lady I bought it from was a dear friend of mine who has since passed away....increasing the sentimental value all the more... I am glad that you appreciated its beauty and felt compelled to share your thoughts with me....*smile*

• United States
26 May 07
That was a beautiful pic.I am sure that your daughter will love it. I don't know what this thing is,but for the last few years ,I can't stand having dressers.You should see the space savers I have ,lol

• United States
26 May 07
If I had a big enough closet to install some drawers for my socks and panties, I would keep everything in the closet. I did at one time hang my bras and panties on hangers, but then my closet got too crowded. So I had to get a chest of drawers. I don't like bureaus of any kind. They take up precious space and end up being a catch all for everything on the top.

• United States
26 May 07
Don't you just love those closet space savers they have out nowadays? I just odn't like them. the only furniture i have besides my bed and end tables are shelves and corner shelves to put my decorations and dolls.

• Philippines
26 May 07
Both is what I do. I love my clothes being neatly arrange. And they smell good too.

• United States
26 May 07
I am very neat too ,I am always being teased about it.I don't know why I have this thing about not liking dressers but it started about 5 or 6 years ago

• Philippines
27 May 07
Neat or organized closet is most girls do unlike men. Hehehe!

• United States
27 May 07

• United States
4 Jul 07
I'm not really sure what a bureaus is, but all of my close are hanging so I have to keep them in my closet.

• United States
5 Jul 07
a bureau is a piece of bedroom furniture with drawers .I like to use my closet.I have evrything organized their