I had to share this strange find on ebay... Mango Kit Kat bars!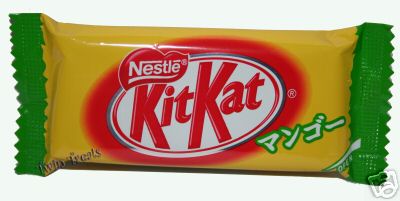 United States
May 23, 2007 4:48pm CST
Ok, is that the oddest thing or what? They are actually from Japan and while at first I thought "ewww!" I started to think about the orange milano cookies... a mix of chocolate and orange... and thought... hmmmm, maybe mango and chocolate isn't so odd. They also had cherry kit kats, chestnut kit kats, dark chocolate and orange, green tea, banana, blueberry cheese, raspberry and melon! What strange combinations in candies have you seen? Have you tried any?
8 responses

• Philippines
23 May 07
hello there! i got really interested in your discussion. you see, i like kitkat bars and when i found out that they come in mango flavor, i was kinda thinking "what on earth?". lolz. :) i hope i could taste those kitkats in different flavors though coz the only kitkat being sold in our country are the chocolate flavored ones.

• United States
24 May 07
I have to agree... very interesting indeed. I'm just afraid of ordering a "food item" via the net, especially from another country. I'm not sure how smart that is or even how costly it must be.


• United States
29 May 07
It seems to be getting mixed thoughts on it. I personally think it might be ok.

• United States
24 May 07
Kit Kats are one of my favorites and these sound delicious. I buy and sell and ebay and usually find some strange things. I'm surprised that I missed these. I've never seen any really strange candy combinations but I'm going to check out ebay for more of these. Thanks for the heads up.

• United States
24 May 07
I'm just a bit worried about buying from another country though, especially a food item.

• United States
24 May 07
Most of those flavors I can see mixing well with chocolate... I've had chocolate with most of those flavors... but not mango or melon. But I wouldn't knock it till I tried it. Actually they're probably in a store near me that has a lot of Asian imports. Countries have unusual tastes. I remember reading a long time ago that when Honda first started making cars they made them in orange to sell in the U.S., because that was a popular car color in Japan. They soon learned that orange cars were not big in the U.S.

• United States
24 May 07
LOL.. it is funny to see the marketing boo-boos of companies who don't do their research well. Gerber first introduced their baby food in jars to one country that basically put a picture of what was inside the container on the label. Not realizing this, they couldn't figure out WHY the baby food wouldn't sell. They finally had someone tell them that people thought there was "baby" in the jars. LMAO

•
23 May 07
Those have got to be the weirdest flavours of candy I have ever heard of! Wow

• United States
24 May 07
I agree.. yet somehow it intrigues me too! LOL

• India
21 Dec 07
White chocolate doesn't taste to me like chocolate. Still it is a wonderful treat I will not pass up on raisins and on other treats. Fudge hot and dripping over ice cream is delicious as well, with whipped cream and nuts with a bright red cherry on top. Milk chocolate for me also because I like sweet and milky stuffs.

• Philippines
29 May 07
wow! i'd love to try those :) i hear they have curry flavored cadbury bars in india though, ever hear about those?

• United States
29 May 07
I like mango and I love chocolate so I would try these.We got some mounds which were tropical they were not very good.