Spring Banquet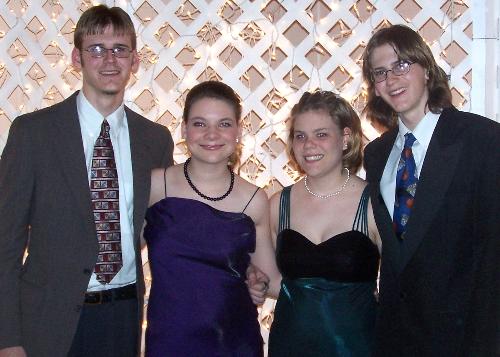 United States
May 23, 2007 8:09pm CST
As you see, I have changed my profile picture this week. The four delightful teenagers in the photo are from left to right...my soon to be son-in-law---my oldest daughter----my youngest daughter----and her date, which also happens to be the brother of her sister's boyfriend. Confused? lol In other words...sisters dating brothers. This was taken at the boys' Spring Awards banquet, which was semi-formal. The girls wore their formals and the boys were all in suits. Sit down dinner, games, and awards, it was a really fun night for all of them. Do you know anyone who has ever married their sister's brother in law or their brother's sister in law? I think it would be rather fun, and certainly easy on family dinners at holidays and such. What do you think...agree or disagree?
2 responses


• United States
24 May 07
I love your new Icon. Well marrying your sisters brother in law is not all that uncommon. My father was one of fifteen children. Of those fifteen children three of them married brothers and sisters. Meaning my Aunt and two of my uncles married brothers and sisters. Does that make sense. It seems confusing. LOL

• United States
31 May 07
actually, it does. My mother in law and her sister married first cousins. That's as close as we've come until my daughters started dating the brothers. I don't know if the younger two will last. They are too much alike, and I'm afraid may kill one another before long.