a month older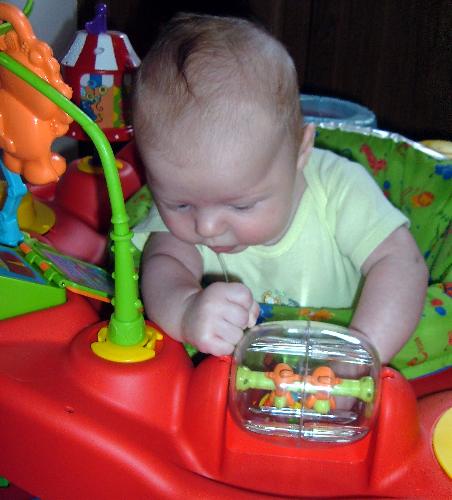 United States
5 responses

• United States
6 Jun 07
We went and got Elliott's pictures taken every month during the first year. While we were already out, we would go out to eat. :) We also usually bought him a toy, but he gets toys a lot, so that wasn't really that big of a deal. Once he got to be around 8 months old, the going out to eat thing was bigger for him, because he started getting his own plate (he's always been a big eater) and he really loved it. He's 16 months old now, and we still go out to eat and let him pick what he wants every month. Sometimes he will even request a meal that we know has to come from a certain place, other times we just pick the place, and he gets to pick from his choices there.

• United States
6 Jun 07
That is to cute. What is favorite food right now? He sounds like a hand full!!

• United States
7 Jun 07
His favorite place to eat is Pizza Hut, but we tend to not go there too much. He also likes "Casey Dee's" (Quesedillas) from the local Mexican place. And one of his favorites that we make at home and eat out both is "chiggy and wy!" (Chicken and rice) We eat it out at a chinese place, or I cook it at home in a casserole or fried rice or cashew chicken or whatever. He doesn't care. He loves it all!

• United States
8 Jun 07
That is funny sound like he will eat any thing as long as it is food.

• Canada
24 May 07
We didn't celebrate when our children got a month older but with our last daughter , every month I took her picture with a big teddy bear we had so that it showed just how much she grew each month . It is amazing to go back and look at the pictures from birth to her first year just to see how much our little one's really do grow in their first year . I wish I had did this with all of my children as it is just really neat to see the differences each month and just how much and how fast they really do grow in the first year they are born .

• United States
24 May 07
That is a really cool idea!! It would make a great little book for you to bind all of them together and keep in a little for her. Where did you ever come up with that idea to do that with her? It would be a really neat thing for all new moms to do with their little ones.

• Canada
13 Jun 07
Thank you , I got into scrapbooking a couple of years ago and am always looking for new and creative idea's and because of this I started taking pictures just so I can make a nice scrapbook page for them when they are older and when I was working on my older children's scrapbooks I realized I didn't have enough pictures to show the difference in how they changed each month so when my daughter was born and my best friend gave her a big teddy bear I thought how neat that would be just to show the difference for each month . I love the pictures and that is what I intend to do is put them all together for her .


• United States
5 Jun 07
It is funny because you are so happy when they do learn something new but a part of you wants to go sit in the corner and cry because you know they will not be a baby forever!!

• United States
24 May 07
we did, every month she got a new dress n a nice pic n also for her every milestone..like her first crawl,words,steps, evrything