Got a parakeet my one cat thought it was lunch.

United States
May 24, 2007 3:03pm CST
My daughter got a parakeet which I warned her might be a bad idea with having cats. Oh everyone told us how they would be fine together in a house if the bird was in the cage when the cats were around. Ok so I gave in. Well we brought the bird home and the male cat was so excited he thought we brought him a treat for lunch. He went after it full force knocking the cage over. Thank goodness I was there because I was able to divert a bad scene from happening and caught the cat and of course told him no that is not for you to eat and then made my daughter take the bird to her room and shut the door. The female cat has made no attempts at eating our new pet but she watches it and flicks that tail. So any suggestions on keeping the bird safe from the cats? I know I should have gone with my gut and not listened to the others that said oh cats are fine with birds as pets.
9 responses

• United States
24 May 07
We have a parakeet. She lives in a cage in our livingroom. We have a multiple cat household. The cage hangs from a hook in the ceiling. Same kind of hook you'd hang a plant from. There is nothing too high near the bird cage - a chair, the entertainment center, a speaker. Nothing too high for the cats to use as a launching pad to leap at the cage. When they get to staring too intently at the poor little bird, I spray them with the water bottle I use to spray them with whenever I catch them doing something bad. They hate being sprayed with water! I have it set to stream so it goes 10 feet or more, so I can be quite a distance away. The cats all know the parakeet is NOT lunch! This has worked for us. Maybe it'll work for you? Good luck!

• United States
25 May 07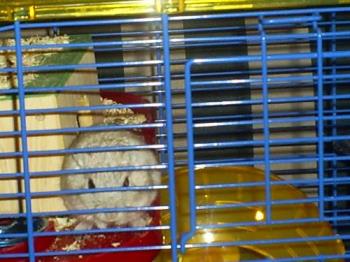 We don't have a bird but my daughter has a gerbil. If our cat comes in (he is mainly an outdoor cat) we usually have to put Little Bit in my son's room with the door closed or sometimes we put her in my daughter's room and close the door. If Little Bit stays still and isn't moving around we can let her stay in the office with me while I'm working but if she starts moving around and Wilbur (that's our cat) sees her his kitty radar starts honing in on her cage and he will try to get her. The bars are pretty small so I don't think he can get to her, but it scares her really bad and I don't want to take any chances. So if Wilbur comes into my office we just move Little Bit to another room and close the door so there will be no temperation for Wilbur. LOL SheliaLee

• Canada
25 May 07
I say hang the cage from a hook in the ceiling, and make sure there's nothing close by thats high enough to enable to cats to reach the cage. I would also recommend getting a spray bottle and squirting the cats with water if they go near it. I did this with my cat and birds, and now the cat knows to stay well enough away lol.

• United States
25 May 07
Whoever told you that just didn't know your cats. Some cats can handle birds as pets and opthers cannot. It sounds like your female cat is more into playing with the little bird rather than eating it. Your male cat is just a naughty boy. i really don't know what you can do in order to keep your little bird safe. i would just try to keep the bird in a room away from the cats like your daughter's room and not allow the cats in when nobody is there.


• United States
25 May 07
Well I'd say keep the bird away from the cats. I'd never had let the cats see the bird in the first place. I got a hamster, I keep it in my room, I do NOT let the cats see the hamster. Its deadly. Good luck and hope the bird survies and you survive too haha!! :))

• India
25 May 07
lol. keep the birds somewhere the cats can't reach

• United States
25 May 07
I have had my Cockatiel Timmy longer than I have had my cats. Well It started out as one cat, but then my daughter & 3 grankids moved in with their cat. Both cats are female. The cats are a few months apart in age. We got them the same day at our local shelter. I didn't even know what my cat ( then 7 months old) was like. My daughter's cat was 9 months at the time. What I did was watch the cat & bird carefully. Everytime the cat looked at the bird I said nooo in a menicing tone, and shooed her away. I never left the bird alone in the house with the cat. I'd put Timmy in the bedroom and closed the door. Then I slowly started to test the cat. Lol she and the bird are great friends. Char can be found laying up on Timmy's cage, and Timmy loves the attention and even talks to Char. Cota the other cat, really never bothers with Timmy. On occasion she will just sit and look at Timmy. She probably just wonders why he is in a cage. She has never tried to harm him. On a side note though. we live in the city, and we have pigeons in our gangway. They make all kind of cooing noises. In our batroom we have a good sized window ledge, with many knick knacks on. Char has to be up in that window everyday thinking she can catch them lol, and Cota just doesn't care. I hope this wasn't to long to read. But I guess what I'm trying to say is, the cats have to learn the bird is part of the family, and be nice and don't eat little birdie.

• United States
24 May 07
We have 2 cats and 2 lovebirds that are in our living room. We bought a very sturdy stand that is about 3 ft off of the floor and a cage with a slanted top. We placed put the cage in a place where the cats can't jump on it at all. The male could care less about the birds and the female wants to play with them (she is the hunter of the two). When they climb up on the stand or attempt to touch the cage we spray them with a water bottle. The majority of the time we have no problems at all.