which is your favourite flower scent?

Singapore
May 24, 2007 10:25pm CST
do you have a favourite flower scent? i believe that the scent you like reveals something of your nature. do you think so? if yes, what's your interpretation? here are a few choices: roses, lavendar, lily, cherry blossom, chrysanthemum, jasmine... feel free to come up with others! personally i like the subtle yet sweet smell of the tiny jasmine flower. it's called shui mei in the chinese bonsai form. i suppose it could reflect on my subtle sweet nature? hahahahaha! all my friends would disagree.
8 responses

• United States
25 May 07
I love the scent of lilacs, and lily of the Valley. I also like Jasmine. I like rose as well, they are beautiful, but not one of my favorite scents.

• Australia
26 May 07
I love jasmine, boronia and old fashioned roses (new ones don't seem to have that lovely fragrance). Maybe your preferred scent does suggest something about you and you could say the same for perfume but what it means? That I don't know.

• Singapore
25 Jun 07
I've never heard of boronia. Where is it native to? Perfume is too complex to explain cos so much processing goes into it!

• United States
25 May 07
Mine is NOW Lavendar. I wrote a discussion asking for suggestions to plants/flowers that tolerate direct sun and Lavendar was one suggestion. So I went out and bought a small Lavendar plant. Everytime I walk past it the aroma is just wonderful to my nose. I love this new found smell as a flower. Thanks also. HAPPY POSTINGS FROM GRANDPA BOB !!~


• China
25 May 07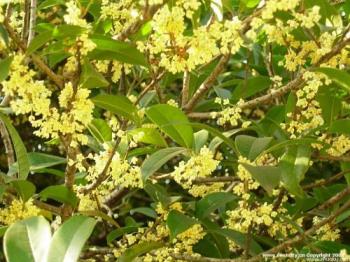 i like sweet-scented osmanthus best,i searched my electronic dictionary for its english name,i don't know if you know that kind of flower,it is called 'gui hua' in China,it is fragrant tiny flowers,white or yellow,and we make it into mooncake.

• Singapore
28 May 07
yes they have drinks made of this flower where i live too! it's great! a very slight scent. I didn't know it could be made into mooncake! the only flower i associate with mooncake is lotus because the lotus paste is used. and also sunflower seeds scattered within right?

• Singapore
25 Jun 07
Gui Hua in moon cakes... that is an interesting combi. What they do? Dry the flowers first then dice it and add it to the skin? or to the sweet lotus paste inside? or do you ground the flowers till they are powder and add it to the mixture when making the mooncakes? or is it used as a decorative that is edible?

• Singapore
25 May 07
Rose is nice! The subtle smells of the rose is very pleasant. I agree with you. Jasmine is very nice as well. The other nice smell I discovered the other day while visiting one of my uncle's home is pomelo leaves! The citrus smells emitting from the leaves is actually quite refreshing! I have yet to try it in my home. Maybe this week I will try to get some from the market to put in my home.

• Singapore
25 Jun 07
pomelo leaves! I love pomelo. Yah when it's midautumn I shall buy one to put in my new home. The pomelo skin has a lovely smell too. Shall use it as my fridge fragrance.

• United States
22 Jun 07
My favorite scent is lilac, although there are many other flowers that I really like too. Jasmine, cherry blossom and lavender are just a few of my other favorites. I don't know what these scents may tell you about my personality, but I really enjoy them.

• Singapore
25 Jun 07
Come to think of it, I've never smelt fresh lilac. Although it's used in a lot of powders. Cherry blossom has a really faint scent right? I'm not sure. But L'0ccitane has a new range based on that scent. It's lovely. I'm guessing that these mean you like very feminine sweet scents. Lavender is a bit more musky I feel, and slightly more masculine. But I love the lingering scent when some buds are rubbed on my fingers!

• Belgium
15 Jun 07
I adore carnation! I love the spicyness of it, it's wonderful. I also love rose, jasmine, lily and lavender.

• Singapore
25 Jun 07
I've always thought carnations had no smell! At least those in Singapore smell very very faint! I guess if the petals are crushed it might emit something more...