Can you tell me about The Great Wall OF China?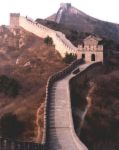 India
May 24, 2007 11:04pm CST
hi friends I want to know about "The Great Wall OF China" I have heared about it a lot as its among the seven wonders of world. Can you tell mw when and why it was constructed. what was the main purpose for its construction. where exactly is it located. I wish to visit chins to see it in near future. please help me with all the knowledge do you have about this. thanks a lot in advance...happy mylotting
3 responses

• Singapore
25 May 07
The Great Wall of China was key to protecting agriculture and resisting cavalry of the Huns and other warrior tribes from the north. The advantages of the enormous barrier diminished with the advancement of gunpowder and other weaponry. The wall was originally built of stone, wood, grass and earth. In the Ming Dynasty bricks were produced in kilns set up along the wall. The bricks were transported by men carrying them on their backs, donkeys, mules and even goats had a brick tied to their head before being driven up a mountain. The Great Wall of China was built over more than two thousand years. Construction on the first section began between the 7th and 6th century BC, and the last work on the wall was done between the 14th and 17th centuries. Today you can easily experience the picturesque walk site from Jinshanling to Simatai. It is beautiful, good exercise, but not always an easy stroll in the park. So make sure you've had a good meal or brought some snacks, water, convertible walking shoes, sun lotion and plenty of film. More info can be found on www.thebeijingguide.com/great_wall_of_china/

• India
25 May 07

Great wall of china is one of the ancient structire created by man around 2000 years, by Qin Shi Huangdi, the first emperor of China during the Qin (Ch'in) Dynasty (221 B.C - 206 B.C.). This was mainly built to safeguard the kingdom specially from the Nomadic tribes called the Huns.The Great Wall is one of the largest building construction projects ever completed. It stretches across the mountains of northern China, winding north and northwest of Beijing. It is constructed of masonry, rocks and packed-earth. It was over 5,000 km (=10,000 Li) long. Its thickness ranged from about 4.5 to 9 meters (15 to 30 feet) and was up to 7.5 meters (25 feet) tall. During the Ming Dynasty (1368-1644), the Great Wall was enlarged to 6,400 kilometers (4,000 miles) and renovated over a 200 year period, with watch-towers and cannons added. The Great Wall can be seen from Earth orbit, but, contrary to legend, is not visible from the moon, according to astronauts Neil Armstrong, Jim Lovell, and Jim Irwin. Hope this informantion will help you.