The Good in Goodbye

Philippines
May 24, 2007 11:35pm CST
Sunsets mark the end of the day. It's like kissing your life goodbye for the day. To some, goodbyes are sure a hard thing, like ending a relationship, quitting a job, death of loved ones and many others. They say that there's a good in goodbyes....that goodbyes are not as awful as it seems. And for such a nature-lover as me, I can see the good in goodbyes in the beauty of a sunset....
8 responses

• India
25 May 07
For me the goodbye told to the day after completion of my work and before sleeping!Goodbye is a word which will end only day but not all!In my good in goodbyes while i complete my work intime and i spend my time to my personal work i will said goodbyes to that day!

• Philippines
31 May 07
I do love to watch sunset. It always mesmerize me. There is always a feeling of undefined sorrow probably because of the dimming light and yet you feel glad that you are a witness to such beauty and grandeur. You are awed because you are emerged in the beauty of your surroundings with the golden sky turning into red and pink and dark orange as the dimming ball of fire sets into the horizon. Sunset always remind me of the greatness of God and how He wonderfully made all creations. Watching the beauty of the setting sun made it a lot easier to say goodbye to all of the day's frustrations - be it losing a job or losing a love one.

• Philippines
31 May 07
Yeah. I know that feeling. That's also what I feel about sunsets. You're right, for me, sunsets are the most marvelous creation of God, next to man of course. How the color of the sky changes from yellow to orange and pink and red and violet then gray....wow, it's just like a magical moment to me. And yes, though there's that undefined sadness we feel deep within, I still feel the love of our God through the beauty of the sunset.

• Canada
25 May 07
yes but if you had to say goodbye to your parents or husband or boyfriend or child and not see them again would you still do it so easily, a sunset lives but comes back again, a real goodbye is never coming back.


• Philippines
30 May 07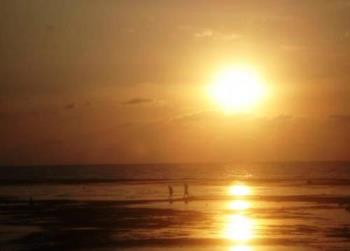 Yes, sunset is beautiful and there are so many pictures of sunset taken everywhere in the world. It means a lot, differing from the outlook of an individual to another. For me, I just love to look at the sun setting and any picture of sunset.


• Philippines
30 May 07
Your friend has captured the beauty of the sunset there. And seeing that, I agree that there is really good in goodbyes. I also love sunsets. Too bad I didn't have really nice pictures of it. Maybe I should start taking pics of sunsets soon! :)


• India
25 May 07
If goodbye is a permanent greeting to someone then I see no good in it. I absolutely hate leaving someone forever and would dread such a goodbye. but if it just wishing someone at the end of a meeting then Im ok with it.