Yankee used my book for a teething ring!!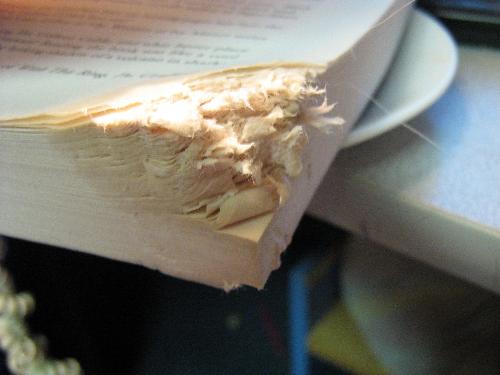 Canada
May 24, 2007 11:38pm CST
I know I already talked about dog proofing my house. The thing is I didn't do it yet. Well, now I am regreting it . I was sitting her this evening not paying attention, even though I heard him chewin away as loud as a mouse . Finally I looked and to my horror he was chewing on the corner of a brand new book. Fortunately he did not chew the print, but he chew made a mess of the corner of my book .I am going away for a few days, but I will be requesting that my hubby pick up the things off my floor and all through the house. It is bad enough that he chews on newspaper, but chewing on books is over the line. Good thing he is such an adorable puppy .
4 responses

• United States
25 May 07
When Cocoa was a puppy we found several books around the house that looked like that. Made us think twice about where we left things, that's for sure. Once she grew out of puppyhood (and after training) we didn't find anything looking like that around the house anymore, but it sure was annoying at the time. But you know, they're so cute, you just can't stay mad long, can you? :)

• Canada
25 May 07
Oh yah that is the hardest thing about having a puppy; it is like have an baby and teaching and training all over again. Are you sure you wanted kids at this age?

• Canada
25 May 07
and think you will have a neater house because of it too. So there are good things that come out of it.

• United States
25 May 07
You will need to start training him now not to chew your things or it will get worse. My daughters dog has chewed every pair of my granddaughters shoes includeing a new pair she had only worn twice. I would like to ring the dogs neck but she is too cute. i told them to get a good dog chew and a few play toys for the dog and to smack it with a newspaper every time it's caught chewing on something other than the chew toy.