Do you like to live dangerously??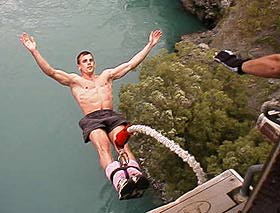 Malaysia
May 25, 2007 5:04am CST
Are u an addict of adrenaline rush? Are you spontaneous? Have you ever hitchhiked before? Do you seek adventure everywhere you go? Or do you plan every single thing you do in your life? Do you worry a lot? Or do you just dream about the things you wanna do, but never had the guts to do them... As for me, I do love having that kick of adrenalin but I wouldn't take too many risks in my life. I do wanna go bunjee jumping though! That's the one thing I wanna do before I die.. But other than that, I don't think I can say that I live dangerously.. I'm not really keen in taking risks. I think I'm more of a dreamer.. There are a lot of things that I wish to do but just never had the guts to go through it.. What about you? Do you live dangerously or would rather sit back and plan your life?
4 responses

• Malaysia
26 May 07
tried hitchiking the other day for the 1st time. I was late for work. Showed the finger for about 5 mins then a car stopped. Friendly guy. Offered to send me to the nearest train station. Felt great after that. Dunno why..

• Malaysia
26 May 07
Woww.. that's pretty adventurous.. I don't think I'd dare to hitchhike.. maybe being a guy makes it easier than us girls.. i guess you felt great knowing that you took a chance and it didn't turn out as bad as you would have expected.. A lot of us should start taking chances in life since waiting for something to happen is just a waste of precious time.. good for you!

• India
25 May 07
i dont want to take chances with life and worry later .if u are a person having adrenaline rush u should not worry about the results ,u have to be in positive spirit always when in worries also (the attitude should be positive whom ever who may or may not live adventurously)i better like to go in a safe way.playing with life is not at all good .one can say i can overcome any challenges but whenever the situation come umay not be in a position to suffer or handle that .better think and act

• Malaysia
26 May 07
you're right about what you said that people who are adventurous need to have a positive attitude.. that's what makes life interesting, to see it in a optimistic way.. so are there things that you wish you had done? like bunjee jumping, or white water rafting.. but just too afraid to take chances? you would rather just look at other people who have done it?


• Malaysia
26 May 07
woww.. so what do you usually do for fun? have you always been a conformist? don't you ever hunger for adventure and spontaneity? hope u don't mind me asking.. i'm very curios.. thanks~!

• India
25 May 07
ya i do like to live not dangerously but adventuresouly, but there is no much such activities in my country i hope in future we may have it

• Malaysia
26 May 07
oh really? where are you from anyway? what kind of adventurous activities have you done and what do you like to do?