London Eye Experience.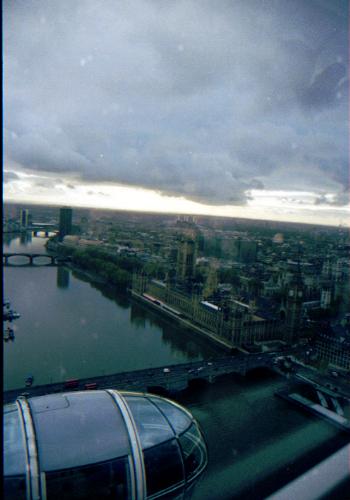 May 25, 2007 10:35am CST
I just thought I would share this photo with you all. It was taken on the London Eye back in 2000, just after it became operational. I thought it was a great experience and I am ready to do it again. They call the trip a "flight" and the views are really tremendous. The photograph was actually taken as a movie on my camcorder, but I grabbed this frame. Please feel free to leave any comments.
2 responses

•
28 May 07
When me and my dad went to go on the London Eye it was closed for maintainance so I never got to go on it. I do want to go on it before they close it though as they are bound to close it eventually, the view must be amazing I'd love to see it.

•
28 May 07
Sorry to hear you missed out on the London Eye experience. I haven't heard of any plans to close it, so you should have plenty of time. I think it may not work in very high winds. You may get more information from their website.. http://www.londoneye.com - then you can get tickets in advance and get your booking confirmed.. :-)

•
28 May 07
I haven't been on the London Eye yet and not sure that I want to, the photos I've seen from people who've been on there look spectacular but I'm also a bit wary that I'll be somewhat scared to be up there in a big space age pod as I'm a bit of a wimp LOL! I didn't realise you could hire a whole pod for £350!