You are responsible for that which you criticize or about which you make jokes!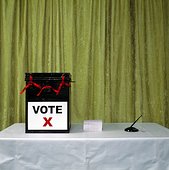 Canada
May 26, 2007 9:13pm CST
People are always talking about how things are going in the country where they live. They joke and criticize the governments. In countries where the right to vote is open to citizens of the proper age, it is the responsibility of EVERY one of those citizens to vote and make their opinions known by submitting a ballot when called to do so. If a person doesn't vote, in my opinion, they really have no right to complain or criticize the elected officials and actions of the government.
3 responses

• United States
30 May 07
I agree-- but I also feel if you do vote- and the person you choose didn't get elected- you have every right to complain and poke jokes at the government- Honestly even if you vote and the person you voted for - wins - and they change-- we all know they say one thing and do another- then you can complain- It is our right-- freedom of speech- to complain about anything we so choose to complain about- I choose not to complain about the government- Sure I don't like alot of choices that the President makes- but why complain about it? It doesn't help and it doesn't make me feel better!

• India
27 May 07
Ya you are very right iF one hasn't done his duty by pllong the vole ,he don't have any right to criticise the government or the administrative system. As right and duties are complementry to each other but most of the time we forget to perform our duty and when it comes of your rights you will find that person in very front row.

• United States
27 May 07
You are of course right. If a person has the privilege of participating in selecting their representatives but fail to do so then they have in effect said they don't care who is elected. Following that they have no voice. The problem is that we as humans just naturally love to citizens our representatives when they do wrong. The reason this is not a bad idea is because the more people pointing out a problem the more likely it will become a national concern and be acted on. If the person who did not vote is all wet in their opinion it will out and do no real harm.