What is the best cat food?

Philippines
9 responses

• United States
28 May 07
my cats seem to prefer friskies over whiskas..so i guess by their vote,friskies. 9-lives is another good brand.but those two are their favorites.

• Philippines
28 May 07
I agree with that, 9 lives is a good brand, do your cats prefer the dry one or the one in cans?

• United States
28 May 07
they like both,but absolutely love the 9-lives canned tuna in particular.they'll steal it from each other if i don't keep an eye on them LOL i do have one cat who refuses to eat anything but dry food,though.

• Canada
28 May 07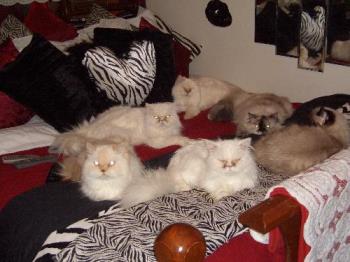 I only use one kind of cat food, that is Science Diet. I never buy cat food from the grocery store they put too much ash in their products. Our vet recommended Science Diet to us and that is all we use. It is more expensive then most but it is good for our cats and our cats are worth it.I own seven cats. Four are Himalayan and Three are Persian. If we ever cannot get Science Diet we will get Iams, this is another good cat food.

• United States
28 May 07
Our vet recommended Science Diet as well, but when I looked into the food I decided not to buy it because it had meat by-products.

• Canada
28 May 07
I only buy food that are sold in a pet shop. Of course they cost more, but they are better for the cat. WE give them First choice. I don't know if it's only in Canada. And also for a treat we give them some can.

• Philippines
28 May 07
I'm sorry but I'm not familiar with First Choice, but according to you, it's good though. Here in the Philippines we only have Friskies, Whiskas, and 9-lives, and so there isn't really any much of a choice.

• Singapore
29 May 07
I feed the cats around my apartment with both Friskies and Whiskas, and they will usually gobble everything up. Both I believe are nutritious for them. These cats are like scavengers and are always hungry for a meal, so they never refuse food from me. Sometimes they eat so fast, they are like vacuum cleaners!! haha.

• Philippines
29 May 07
Hmm...this one would always give my wife a faint smile, she loves cats, & it seems so are you. With regards to cat food i never give it much preference, though what ever is available food we ate is just the same for our house cats.

• United States
28 May 07
By far, the best cat food (in my opinion) has to be Purina Cat Chow. I used to feed the canned cat food to my kitten and he would cry all the time. But, when I switched him to Purina Cat Chow he was able to sleep all night. And, my second cat loves it too! Purina has raised over 30,000 cats and kittens over the years, testing their product. So, they know what cats want and don't want. Purina Cat Chow studies cat needs and ways to help them live longer, healthier lives. Certainly I'd rather my cats eat something that was specifically designed for their special internal needs. Not many people know this, but male cats are especially susceptible to bladder and prostate issues later in life (much like human males). And, it makes their lives very hard. But, with proper nutrition and the right minerals early in life, these conditions can be avoided. I've had both my cats since they were babies and they've never been sick a day in their lives. I have to credit Purina. Thanks Purina! My cats thank you too!

• United States
28 May 07
We buy Nutro Natural Complete for Dry food and Meow Mix pouches - only the Upstream Dream; Hook, Line and Sinker; and Cluck-a-doodle-doo types. When they were kittens, we had our cats on the regular Nutro kitten food and the ProPlan canned food. When they were close to a year I spent a very long time researching cat food. I found that many popular brands had a lot of preservatives, meat-by-products, and were just not balanced. So we decided to feed them all Nutro products. When Nutro had the pouch recall, I did the same research on both canned and pouch food and found a similar problem. Many of the canned and pouch food contained meat-by-products, many chemicals, and the products were not consistent in quality (ie one type would be 100% meat, but the next type would be all meat-by-products). I settled with the Meow Mix pouches because the 3 I buy do not contain meat-by-products or wheat gluten, and they look like real meat. FYI other Meow-Mix pouches, dry, canned and the plastic bowls do have the meat-by-products, etc. in them. Just don't assume that when you pick up one can/pouch/bag of food and it is okay that all of that brand will be okay. That is not the case! Be careful what you feed your cats. Good rule of thumb - if you wouldn't eat it, don't give it to them. If you don't know what it is or cannot pronounce it, don't feed it to anyone.

• United States
28 May 07
I totally agree with the response above me. 4 of our cats get Iams, and one gets science diet. Years ago I fed them brands such as friskies. Once I learned I switched them and it really did make a difference in their health. Their coats are much shinier, what they do in the littler box is not so stinky, they vomit less, etc. I'm very happy with it and I wouldn't ever feed my cats the cheaper stuff.