Jave you ever confronted a poisonous snake in real life?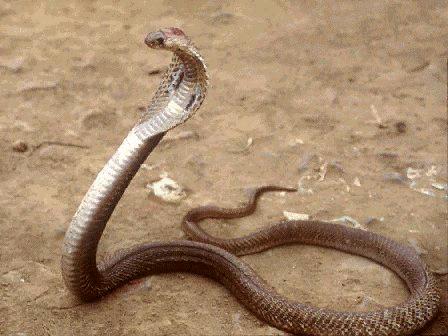 India
3 responses

• United States
10 Jun 07
Yup! I tapped on the glass and teased it at the zoo. ha ha OK...then there was this other time that I threatened to run it over with my van...but it ran away. I'm not sure if it was my big van that scared it away...or that guy that was trying to poke it with a stick. But if you ask me...I think it was my van and that guy should be happy that he didn't have a shorter stick!

• India
10 Jun 07
That's an experience.Here I have confronted a cobra with it,s hood right up in a small lane when I went to a village.I was just standing there not knowing what to do.I felt the man accompanying me holding my shoulder and gently nudging me away from it's path.When My heart beat came to normal I could see my shirt drenched wet in that cool night.

• United States
10 Jun 07
I have come upon snakes on nature walks. But I have foudn that if you walk calmly and do not bother them, they will not bother you. :)

• United States
27 Jun 07
When I was a teenager growing up in Texas I used to catch and sell rattle snake but now I am opposed to that kind of thing. The snakes including poisonous one in the United States eats lots of rodents that would other wise eat our food stuff and also the rodents carry diseases that can cause humans to become sick or die. When I come across a snake in the wild i might pick it up to admire it and then let it go so that it might better help us. I would rather have a few snakes around (the animal kind) that lots of rodents.

• United States
29 Jun 07
Why must man always try to kill things first and then ask questions later? Knowledge is power. If we learn about what is around us we can use what is around us to better use without destroying everything. When I was growing up in Texas I used to catch and sell rattlesnakes (I do not like doing that anymore). Without knowledge I would have been afraid but I overcame my fear and put that knowledge to work ( I realize now that it was not good). If we stay away from anything that scares us we (mankind) would not have many of the modern conveniences that we do have now.

• Philippines
16 Jun 07
i have been confronted by poisonous snakes several times in my life. it is good that snakes never scare me. i grew up with snakes around. snakes used to abound in the towns and cities in the davao provinces in the philippines until the 1970's. i used to be very much amazed with snakes before. so i talked to those that i see resting in their holes under the house. the most memorable encounter i had was with a philippine cobra which was about to attack my farm help. she cried out loud to me for help. when i turned around, i saw that the snake was about to attack her. when the snake heard me talk, immediately, it turned away. that was the time that i believed that i am a friend to the snakes. i never believed a teacher i had back then in college.

• United States
27 Jun 07
Snake do not have ears and so cannot fear you talking but can feel vibrations on the ground and will try to get away from humans when they can. It is only when they are cornered or cannot get away when they become dangerous.