Do You Need An Easy Cake For Those Summer Get Togethers?

United States
May 31, 2007 3:56am CST
Anyone that knows me knows that I love pumpkin cheesecake, cookies and cakes. Anything with pumpkin is good except pumpkin soup and I just cant enjoy something that is that unappetizing to look at. LOL Seriously I do love to bake with Pumpkin. I have used this recipe on many occasions. I love it for family and church picnics. I get alot of comments on it. As long as people brag on my cooking, I will just cook up a storm. LOL People just cant believe that it is this easy to make. I thought I would share this recipe with you. I hope you enjoy it as much as I do. It is so easy and tastes just wonderful. Pumpkin Dump Cake 1 - 29 oz. can pumpkin 3 eggs 1/2 cup packed brown sugar 1/2 cup regular sugar 1 - 12 oz. can evaporated milk 1 tsp. ground cinnamon 1/2 tsp. ground ginger 1/4 tsp. ground cloves 1/2 tsp. salt 18 oz. pkg. spice cake mix 1/2 cup coarsely chopped pecans 1 stick melted butter (margarine will work but pure butter is better) Heat oven to 350. Grease a 9x13 pan. In a large bowl, combine pumpkin, eggs, brown sugar, regular sugar and milk. Stir in cinnamon, ginger, cloves and salt. Pour into pan. Sprinkle dry cake mix evenly over pumpkin filling. Sprinkle pecans over the cake mix. Drizzle melted butter over all. Bake 50-60 minutes, or until the edges are lightly browned. cool completely.
9 responses

• Hong Kong
31 May 07
Thanks for your recipe! I personally love pumkin too! But for cakes, I would really love dark chocolate! Here is my favourite dark chocolate recipe (can't wait to have time and make it again!): SUPREME DARK CHOCOLATE CAKE Ingredients 150g dark chocolate (around 55% cocoa will do)* 80g butter 3 eggs 30g sugar Steps 1. Melt butter and chocolate in a bowl over simmering water. Leave in to cool. 2. Separate the egg yolks from the egg white. Add egg yolks in the melt chocolate mixture and mix well. 3.In a separate bowl, beat egg whites and sugar together until foamy. Fold half of the egg white mixture into the chocolate mixture. Stir gently. Fold in the rest of the egg white mixture. 4. Spoon into greased cake tin. Bake at 180oC for 25-30 minutes. Serve. (sources: http://www.beauty-tricks.com/beautyforum/viewtopic.php?t=17&postdays=0&postorder=asc&start=0)

• United States
31 May 07
I love pumpkin cookies so I will probably like this too. I don't ever think about cooking with pumpkin in the summer months but this recipe just might change that. It looks easy too. Someone was looking for some ideas for a summer get together. I will PM you the link. Maybe you can give her some suggestions.

• United States
31 May 07
Yes, I must always have cake. I cannot help it. I love cake....and pumpkin is good for you and besides its cake sooo lets all bake this one up......

• United States
31 May 07
If you say cheese cake you have my attention...and yes , I am..in a good mood now...this is a great recipe and great post. You always have the best posts...have a great evening...

• United States
31 May 07
You might be interested in my Pumpkin pancakes. Mix up a double batch of Bisquick pancakes. Add a small can of Pumpkin pie mix Mix it and cook like regular pancakes. If you are a diabetic or want lower calorie Mix up a double batch of Bisquick pancakes. Add a small can of Pumpkin Add some artificial sweetener - i guess about a quarter cup (I am not big on measuring) Add some nutmeg and Cinnamon - I just shake it until it smell right - sorry. Cook up like regular pancakes.

• United States
31 May 07
LOL My daughter laughs when I tell her add something till it looks right. LOL

• United States
1 Jun 07
I think that is how the great chefs of the world cook...we are in good company.

• United States
31 May 07
Great I have everything. Well except for some of the spices but I have a bottle of spice mix that I bought called pumpkin pie spice. Do you think that will work? I also have sugar twin white and brown sugar twin for baking I am thinking of making this for my mom so she can take it to church becuase most times they set around after talking and drinking coffee and eating donut sticks and bear claws so this would be a treat for them. I am wanting to make both the kind for diabetics and one for the others who doesn't. Thanks I hope they enjoy it. I love anyhting pumpkin like you except for the pumpkin soup also.

• United States
31 May 07
Let me know how they like it. How can anyone eat soup that looks that bad??? LOL

• United States
31 May 07
I love pumpkin desserts! I wrote this down and am beginning to wonder if I shouldn't just keep my recipe cards beside the computer!! Do you have more recipes for pumpking bars and a cream cheese frosting? I would love to have it!

• United States
31 May 07
Did you get my pumpkin Cheescake recipe? It is to die for! yes, it is that good

• United States
31 May 07
Pumpkin is my all time favorite. I love the stuff. Hubby knows that when I crank up the oven in the autumn months that I am making something with pumpkin!

• United States
31 May 07
I dont really like punpkin, my favorite summer recipes would have to be rice crispy treats and pound cakes, and there are so many ways to make these different

• United States
31 May 07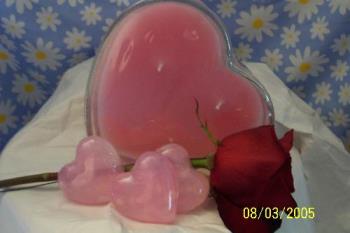 Thanks I have never been a big fan of pumpkin but a friend of mine use to make pumpkin fudge. I will have to save this recipe and send it to her and have her make it and save me a piece so I don't have the whole thing tempting me here at the house. Thanks for the recipe.