Highway robbery.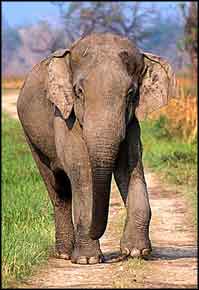 United States
May 31, 2007 6:26pm CST
How would you like to meet an elephant while driving to work every morning. Well there is one that greet drivers in eastern state of Orissa, He stands in the middle of the road and waits for the commuters windows to be rolled down or the door to be opened. He will not move until the car up for inspection. He is looking for something to eat.. If you have bananas or vegetables he will take them and eat them Then he will let you pass. Now that is one smart cookie.
4 responses

• United States
31 May 07
In that case, I would have a little garden growing in the back of my trunck (hehe trunk) with lighting powered by a couple of car batteries to ensure that they last long. Not only that, I would probably drive by just to say hi. I think animals are the coolest things walking this world. I wonder if you could pet the elephant while he/she inspects the car. What would happen if you didn't have any fruit or vegies? Will it still let you pass?

• United States
31 May 07
This is interesting. I had never heard of this before. Is this in South Carolina or where? This would be interesting for sure to see.

• United States
1 Jun 07
I love elephants. If there was an elephant like that around here, I'd make sure to bring something good for him. I've heard that elephants are as smart as dogs. I got to ride on an elephant once, at a medieval fair. It was a lot of fun, and the elephant was nice.

• United States
2 Jun 07
I'v only seen elephants in the zoo here in South Carolina. They are very intresting. I love the movies that are about elephants. One that I like is a John Wayne move called "Daktari" There is one that has 2 little boys taking an elephant into the wild to find it a family and recue it from a man the was mean to animals. I can't remember the name of this movie though. Iv'e been to a midevil fair back in Kansas but they has a camel instead of an elephant.

• United States
31 May 07
What an amazing story, isn't it?! I've heard elephants are somewhat smart, but that's downright clever, lol. I mean, who's going to argue with a bohemouth that size? hahaha, I'd be makin' sure I had bananas or something every day and consider the price of the 'toll' to be fun. Thanks for sharing, I hadn't read about this one.