Chapstick Addiction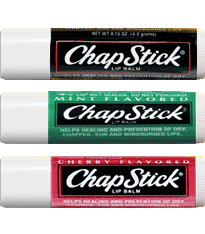 United States
June 2, 2007 4:19am CST
i have a SERIOUS chapstick addiction. i usually coatr my lips with the smooth balm a few times durrng the day and SEVERAL times at nigth before i sleep. i love to go to sleep with chapstick on my lips. Then i awaken with soft, smooth lips. i am very particular about that. Do you have a chapstick addiction?
4 responses

• Australia
2 Jun 07
I adore lipgloss... not specifically Chapstick but similar products. I have a moisturising one sitting next to my bed just in case I need it at night and always have at least one in my handbag for during the day. I use it constantly and don't know what I'd do without it!

• United States
2 Jun 07
Ohhh! i love lipgloss, too! i have a lot of it! lol. i always make sure i have one in my handbag. Right now, i have a red one and a glitter one.

• United States
3 Jun 07
i have this stuff right now called Chap Ice. It seems to be working pretty well.

• Ireland
14 Jun 07
I have the same addiction. I stared using it when I was a teenager after getting a bad sunburn on my mouth and have had to use it ever since. I panic when I can't find it. Everything stops, and everyone gets drafted into locating the lost chapstick.

• United States
15 Jun 07
i like to keep a chapstick or 2 right by my bed and some in my purse as well. That way i always have one around.

• United States
3 Jun 07
hahah thats funny. i only use chap stick when my lips are chapped.

• United States
4 Jun 07
Oh you...you know how addicted to the $hit i am! lol Didn't you notice me constantly putting it on when you were here?

• United States
2 Jun 07
kind of-i like that carmex stuff that comes in the lil tins? especially in winter-the air is always drying my lips out.

• United States
3 Jun 07
i LOVE that Carmex stuff! It is just as addicting as anything. And it tingles! i love any chapstick that tingles.