Nature's Code Vitamins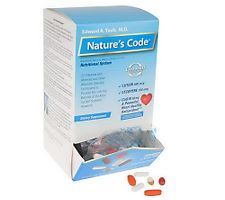 United States
June 4, 2007 5:28am CST
I have Just started taking this 5 pill daily pack. plus i take other vitamins but was wondering if anyone here has tried this or is taking it now? I started taking them with I found out they had added the Co/Q10 to them. The only place I know of that you can buy them is at QVC.com and you buy them for 90 day and you can be on auto plan with I also like.
1 response

• United States
4 Jun 07
Sissie44, Taking Vitamin "Pills" aren't too great for the body. Research shows that 40% of vitamin "pills" get into your stomach and sit there, when only 1/3 of the 60% actually dissolve. Another thing, as they might "market" a what seems to be a good product, it is highly over priced. $59.40 plus S&H...OUCH! Sissie, Look at the information provided at this link http://www.pagekast.com/projects/GBG/supplemental-facts.pdf All this for only $19.95 and it's in LIQUID FORM! You can purchase at www.gbgfreedom.com You can "feel" the difference Sincerely, Andrew www.gbgfreedom.com Where it Literally Pays to Be Healthy

• United States
6 Jun 07
Thanks I will check it out. I took all the vitamins that I take each morning this morning and instead of taking them I put them in a glass of water just to see how long it takes to desovle. I had heard that doing this will give you an Idea as to how long they do just sit in your stomach. can't remember where I heard that just remember hearing it :)

• United States
6 Jun 07
Tell me how the progress goes with the pills sitting in the water. When you're ready to feel the difference go to www.gbgfreedom.com as you know only 19.95. Sincerely, Andrew www.gbgfreedom.com Where it Literally Pays to Be Healthy!

• United States
7 Jun 07
morning GBG, this was gross!! would you believe I still had 4 vitamins just laying in the glass of water and the water was so gross!! The Hoodie vitamin that i started taking a week ago, 2 a day! did not even sink! It stuck to the side of the glass!! and my jell type vitamins were stuck to the bottom of the glass. Now the one that really surprised me was my stress B complex with C-500. part of it had desolved but most of it was still in the bottom! so do you think this is what is in our stomaches?