Why Does My Kitten Lick My Nose?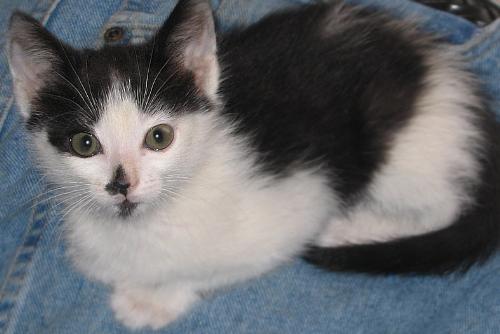 United States
June 4, 2007 11:14am CST
My New Kitten Carlye licks my nose quite often. Does anyone else's cat do this? Does Anyone know why cats do this?
6 responses

• United States
23 Jul 10
No cat here, but my dog, Tidbit, licks my eyes and my forearm. When I'm petting her, she'll lick my arm and mornings, she licks my eyes, like she's getting the sleep out of them for me. It's a bit strange, I think!

• United States
22 Jul 10
Yes, me and my boyfriend have one that licks his face almost every night. And she only does it to him. She licks his nose and she will very lightly bite his chin, and only does this at night. She also gets really affectionate and purrs and bugs us to pet her while we are trying to go to sleep. I feel bad for him because he's trying to sleep and the darn cat is licking his face! We can't figure out why she does this or why she licks just him. Anyone have any good answers??

• United States
22 Jul 10
Maybe its a bonding thing? My kitten is no longer a kitten, but she still licks my nose, and she will also bite my chin if she is upset or scared. Cats are more active at night and that is why is she is asking to be petted at night when you are going to bed. As for the face licking and biting maybe it is a bonding kitten thing?


• United States
4 Jun 07
She likes the taste of your nose, and it is a sign of affection. So, enjoy it sugar.

• United States
4 Jun 07
I'm not sure she's actually trying to lick your nose. But, she is tryting to be friendly. Cats touch noses when greeting close family members. And, since you're part of her family, you're likely to get the same treatment. My big male cat used to do that all the time when he was a baby. Now, I find it's best to keep my face away from his. He's kind of aggressive. But, the little female cat is very affectionate and does that kind of stuff all the time.

• United States
4 Jun 07
I have no idea why cats do that but I have one that does it regularly too. She usually jumps up on the sink counter when I am brushing my teeth and licks my face and nose and will occassionally give me a little soft bite on the nose...kinda awful beacause their tongues are so rough and their breath stinks...LLAMA