I know it sounds silly but...

Romania
June 4, 2007 3:23pm CST
My two new-born kittens suffer from constipation. I've heard that I have to rub their behinds with a wipe and I use cammomile tea to clean them but they still don't show any sign of defecation. What should I do? Is there anything I can give them to get rid of this? As I am absolutely sure they feel unconfortable because of it... Please help...
4 responses

• Canada
8 Jun 07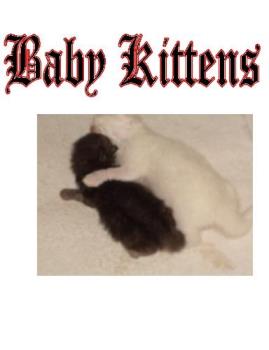 How old are these kittens? I have had at least 65 kittens in my house and new borns do not have bowl movements in the begging I would not force the issue. Do these kittens not have a mother that licks them in their private parts? I am sure they will be fine, I just can never recall my new borns having a poo until they were a bit older.

• Romania
9 Jun 07
They are two weeks old and they don't have a mother. I found them thrown in a bush in front of my yard...I'm their mother now, the one that rubs their bellies and behinds. :) I'm not trying to make them eat by themselves, I feed them with a sucking bottle but at first they didn't show any signs of poo... Now they're coming back to normal, thanks God.

•
6 Jun 07
Have you tried giving them milk? Maybe sounds daft, but milk can sometimes cause diarrhoea in cats, so it might get things moving! Or give them some oily fish if they are old enough to take solid food, as that will also lubricate things. On the whole though, best to take the little souls to the Vets and get them checked out. Usually a simple medicine will sort them out quickly and with less pain and discomfort to them.

• Romania
6 Jun 07
Milk is what I give them...but from what I've heard, cow's milk is a lot fatter than cat's milk so that would be the reason... Maybe it's hard for them to digest it. Right now, I mix it with a little water or cammomile tea... but one of them still doesn't show any results.:(

• United States
5 Jun 07
Call the vet, don't let it go on too long. Make sure they have quality kitten food, and you might need to change it. Give them a tiny bit of milk.

• United States
5 Jun 07
Instead of cows milk, you should be giving them milk made for cats (or kitten formula) which can be picked up at any pet store. You should also make sure they are getting enough water. If you can't get them to go in the next day or so, I would bring them into a vet.