Is jealousy avoidable?

Philippines
7 responses

• Philippines
6 Jun 07
I believe that it can be avoided because anyway, jealousy is defined as "fiercely protective" ; "vigilant of one's rights or porssession" and "demanding faithfulness and exclusive attention". For me it sounds like "a lot of self". A person with matured thinking is someone who is selfless therefore she can avoid jealousy because she knows true love isnt demanding but kind. It knows no jealousy therefore, she puts faith and trust in the person she loves.


• Philippines
5 Jun 07
I do not agree. Jealousy is in function of a person's upbringing on how to develop one's self confidence of the world around him/her. Yes, it is possible to avoid jealousy my friend. Only, you just need to be a bit more open minded about the circumstances that may cause certain jealousies to take place.:)

• Sri Lanka
5 Jun 07
dear Friend, You may say that i'm wrong. But i know there will be a day that u also feel jelouse...about something, my friend.Accept the truth of nature. I don't say that jelouse people are bad people. But it depend on how much jelouse they are... Thanks

• Philippines
6 Jun 07
I am sorry if you took my comment negatively. I did 'not' say you were wrong. I just said I did not 'agree'. Also, I am sorry to say that I never felt the jealousy you are trying to tell me. I guess I have that certain 'gift' for not feeling it. I wish you all the best for your quest to contain that jealouse feeling nevertheless. Cheers my friend.


• India
7 Jun 07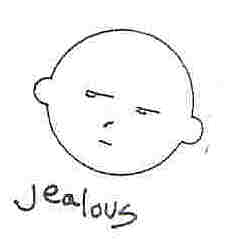 I think jealousy is a feeling resentment against someone because of that person's rivalry, success, or advantages. If one is comfortable with what he/she possess there in no need to be jealous. I am comfortable with what I have. I know my capabilities, my merits and demerits. So there is no room for jealousy in me. Thank you for asking.


• Philippines
6 Jun 07
I do not think that is being jealous. If you tried to understand your situation better you will not feel jealous about others just because you are pregnant. Think about the child you will be having in a few months. Think about the family that you will be creating that others may feel jealous about. See my point?

• Philippines
6 Jun 07
It is a very avoidable trait in a relationship. If the relationship is based on trust, there is no room for jealousy. But there are times when your partner starts giving attention to others or starts talking about his/her ex, then yes, jealousy comes into the picture. But, jealousy doesn't help anyone, but that should not surpass into an obstacle in the relationship.

• Philippines
6 Jun 07
I certainly agree that jealousy may occur given certain situations but it is very much avoidable indeed. Certainly but 'understanding' better the root causes of that jealousy and communicating it openly with your partner. As for me, I am thankful that I was able to contain this very early in my life although it may crop in once in a while, knowing it exists makes life living more interesting and full of surprises.

• United States
5 Jun 07
I think byou have to care deeply for someone to get a reaction like jealousy. It could be almost flattering in a way. BUt it comes down to insecurity and being juvenile. I admit to being jealous in certain relationships when I was young. And the more into him I was the more jealous I got of other girls. He went to a different school and had different parties and school functions. He did his thing and I did mine, and we did mutual friends thigs. BUt I was always jealous of his old girlfriend, and I had a right to be. SHe was into him even after we were together, and when we split up she made her move. Things were never the same after that. I grew up real fast and found jelousy to be almost a wasted emotion. It doesn't get you anyhwere but hurt. But it is unavoidable at times I think. Just part of lifes lessons or something.

• Philippines
6 Jun 07
It is not only how much you care for the person but how much you understand how the person is what makes jealousy avoidable. There are always motivations inside us for doing something that will make our loved ones jealous. Let us not jump to conclusions but try to see the root causes first.

• Philippines
6 Jun 07
no, why do i get jealous? i have what others have...but often get envy and im dying to get what i want.. :) why do jealous?aren't you satisfy for what you have?i love what i have but i get envy on the things i dont have..and maybe the human defence mechanism is get what you envy for..humans are rational and will do what it takes to achive what i want..lol....:)