Romance--it's for everyone!

United States
June 6, 2007 11:10am CST
Let's not be selfish then. Do you have pooch at home with a cold nose? He probably does not have a cold. No, most likely he/she is lovesick. Everyone needs love. A speed dating/mass wedding was held in Littleton, Colorado for pooches. Why arrange an event in your area? I do not have a dog or it would be the first thing on my list of things to do. After all, dogs need love, too. http://www.shopaspengrove.com/bowwow01.html
2 responses


• United States
7 Jun 07

• United States
6 Jun 07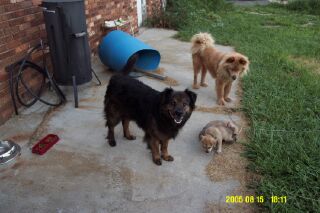 Mo has a boyfriend. He comes over every day to visit her. Sometimes she manages to sneak out, and she runs off with her boyfriend, and stays gone all night. When she gets home, she's all tired and dirty. Such a little tramp!

• United States
6 Jun 07
God bless Mo! And they even have pups! Well, you have to give it to her. She sure knows how to pick a guy who takes her places.