should Kurt Bush Be suspended??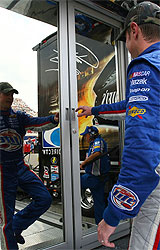 United States
June 7, 2007 6:30am CST
I was just at nascar.com and could not believe the poll I just saw there! it says: Should Nascar Suspend Kurt Bush for his actions at Dover, and for how long? your choices are: one race two race five races rest of the season!! not at all Now I watched that race cause Martin truex Jr won!! so what did I miss? I saw where kurt and tony hit but not anything to call for a suspension! this is normal for these two!! LOL Did you see something I missed?
8 responses

• United States
7 Jun 07
This is referring to what happened on pit road after the incident on the track. Kurt barreled onto pit road and came to a screeching halt inches from Tony's car, almost hitting one of Tony's crewmen. Because that is a very dangerous action, he should be suspended for at least two races, in my opinion. I think most agree that he should be suspended. He put people in danger who should not be.

• United States
10 Jun 07
I agree to a suspension. If he is not punished things like this will continue to happen. here is my question... What would the punishment had been had he hit the crewmember?? He is lucky that he did not injure that man, or I don't think we'd be talking about 1 race. He is very lucky the crewmember saw him and had the time to get out of the way via Tony Stewarts hood!!

• United States
11 Jun 07
If he had hit him, we should be talking about how many SEASONS, not races. There would have been no room for leniency if he had hit someone.


• United States
8 Jun 07
I missed the pit incident during the race. After reading the article, I think there should be stiff penalties. I suppose the 100 points and $100,000 fine plus probation until 12/31/07 sends a message, but I'm not sure the message is strong enough. The points fine dropped him out of the running for the Chase at his point. He may have trouble recovering from that. For someone like him, I don't think $100,000 means much. Sitting out a few races would mean more, because that is his life.

• United States
8 Jun 07
I have to agree with you. $100,000 means so little to those drivers that make the bucks. To me that is a fortune but to him it is like a dollar probably. Missing races, money and points for a while would really make a driver stop and think (maybe) before they did something stupid like that in the pits again.


• United States
8 Jun 07
Kurt Busch is an Idiot!First of all in his own words"I had him by 90%",Well guess what Kurt 90% ain't 100% and the accident was of your own fault.Do you honestly think my man Tony's going to just let you pull a slide job on him?And then you've got the balls to go and risk the health and welfare of innocent pit crew members. Time to sit it out for a few weeks of suspension and think about it. p.s. fans 'Don't forget to watch the SuperStars on ABC network tonight at 8:00p.m.EDT


• Bermuda
8 Jun 07
You must of missed when Kurt drove down pit road and into Tony's pit and his car. In doing so, one of the Home Depot crew had to jump out of the way. So the talk on a suspension is not about the accident, but about the retaliation in the pits.


• United States
10 Jun 07
I did not get to watch the whole race but like you said those 2 hit but whats new that is racing. I dont see why he should be suspended for anything if so then why have a race? I dont have tnt is the race rained out for today?

• United States
11 Jun 07
no the race started a little after five pm but only got half way then rained out leaving Jeff Gorden the winner. I think if the hitting had of stayed on the track there would not be this discussion. but Kurt carried it over into the pits and came in an inch of hit one of Tony's crew men and that is not the kind of racing any of us want.

• Canada
10 Jun 07
I just watched the pre-race with the TNT guys and it was very interesting that they (Kyle Petty, Larry McReynolds, Wally Dallenbach) all believe that the penalty given to Kurt was not enough. The drivers know that the $ is meaningless, the points while something should not have been issued to the owner also. The consensus from these guys is that he should have been put on suspension for this Pocono race. Apparently the NASCAR official (according to Larry MAC) thought that parking him last week was equal to parking him today. I don't agree. I agree with Wally... the worst thing for a driver is to be sitting at home watching his car being driven by someone else. And as Kyle said had he injured the crewman he should be parked for the season! Kurt really needs to get his emotions under control. JMHO

• United States
11 Jun 07
well I am thinking and hoping that this is his wakeup call! not sure how much more he will be able to get by with before fans really start turning own him! how far you let him go before you stop calling him your favorite driver? I still believe he is a good driver but like you say he really needs to get control!

• United States
7 Jun 07
I wish I knew how to get the 2 pics from nascar.com and put on here so you can see what Kurt Busch did in the pits but I don't know how. I totally agree with the pole that was taken and the outcome so far says he should set out the rest of the season and coming in second is setting out 5 races. Looks like there are a lot of us who don't like him and want to see him punished like the others would have been in the same situation. If he is to set out just 2 races or how ever many, then I don't think him being told to set the rest of the last race out should count as one, not at all.

• United States
8 Jun 07
I went over to nacsar.com to look and I can't find it. where do I look? I do not believe this would call for a year suspended! Kurt is better now than what he use to be and now it is his brother that is getting out of hand. If this had of been someone like Jr or Johnson that people would still be saying out for the year:)