Have you ever grown sunflower??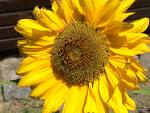 United States
3 responses

• United States
8 Jun 07
No I haven't yet but my mother had done this and it was very successful. Everyone was stopping by to have a look those giant beautiful flowers.

• United States
8 Jun 07
You should try, it is very easy. Just plant the seeds and watch them grow.

• Germany
8 Jun 07
Yes, I have but I am not very successful with them. The more sunflower seeds I plant, the more the dogs eat and break them. Usually from twenty I plant only one or two make it and they do not grow well, they stay about four feet small and they never get ripe. It seems to be either dogs or sunflowers.

• United States
8 Jun 07
Hmmm. that's too bad. Can't you put the dogs somewhere so they don't get to them?

• United States
8 Jun 07
I have never purposely planted them. The birds plant them for me by dropping seeds. I think 3 feet is the tallest mine have ever gotten. They're so pretty, and the birds eat the seeds out of them once they start to go by. Your 10 feet ones must be gorgeous!