What Do You Think of When You See the Word CyberSpace?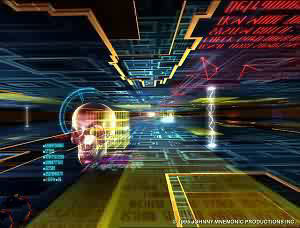 United States
June 8, 2007 10:40am CST
Cyberspace expresses a desire to transcend the world, or it can be seen as one of engagement with and improvement of the world, not escape from it. When I think of cyberspace the movie Tron comes to mind or often the short story by Stephen King, where the young man sat so long at his computer that he started to become part of the computer and Internet. The word conjures visions of computer parts and electrical pulses that orbit each other much the same way as planets does for me. What Do you think of when you see the word Cyberspace. perhaps it has some special meaning for you. What are the boundaries between the virtual and physical worlds?
5 responses

• United States
8 Jun 07
Wow!! This is a pretty deep subject ,girly! I like it.I love discussions that make me stop and think.I thought that it was ironic that you mentioned that stephen king move with emilio estevez(whatever happened to him lol). hearing the word cyberspace always freaks me out cause i always think back to that movie.I always worry about what's gonna happen to these people that spend hour after hour sitting in front of the computer.

• United States
9 Jun 07
It was actually a Stephen king short story that I read..for the life of me the title eludes me, I did not see the movie do you remember the title of the movie? But yes its one of the things I think about when I see or read the word, it was a creepy story and it actually scared me. he sat there so long that his hands and arms and what was tendons, sinew, bones, and skin began to turn into wires, electrodes, the blood pumping in his body was cooling fluids, his skin becoming steel... It was just plain freaky and left a lasting impression on my mind.

• United States
9 Jun 07
I'd be curious to read the story or preferably see the movie as well. It's not Maximum Overdrive you're thinking of is it? I don't like reading Stephen King for some reason, well no I know the reason. He doesn't know how to end a story. Tie up the loose ends already, Mr. King and stop being so predictable. Some of the movies though, were really rather good, like Carrie and Christine, where the stories actually ended, mostly.

• United States
9 Jun 07
Filmbuff the story I am speaking of I want to say was in one of his early collection books. Skeleton crew or maybe Nightshift..... ARRRGGGG I will have to find it now, its nagging the heck out of me.


• United States
8 Jun 07
Real world is physical and touchable. It is where we live and function. The cyberworld is only electronic and most often fake. An illusion and a grand copier of what is in the real world. I see catalogs on line where you turn the pages. Cute but not what I would wish to see in cyberspace. Also in dating you can be anything and in the real world you can be the real you if you dare. There is a clear difference at least to me.

• United States
9 Jun 07
I agree that in the cyber world you can paint yourself a princess living in paradise, I have encountered those very type of people in different venues online myself.

• United States
9 Sep 07
Cyberspace is a massive network. * One: It connects large numbers of people who would otherwise be prevented from making contact. Most of my friends are on this network. I wouldn't be able to contact them with out the network as I couldn't afford the outrageous phone bills. * Two: Massive amounts of data can be found within this network we call the World Wide Web. Movies, pictures, songs, books, web pages, newspapers, and news you can't get in the United States. I've obtained useful information via the Web as well as entertainment. Cyberspace has made publishing and creating of content easier. You don't need to go to a book publisher to get your book published thus exposed to the public anymore. * Three: Cyberspace has made it easier for many working folks to telecommute, keeping polluting cars off the highways. Conferencing software keeps fpeople from having to fly here, there, and everywhere on business. If Mr. Jones forgets something in his office P.C., he can use software to pick it up rather than hopping in the car and spending gallons of gas.

• Sweden
9 Jun 07
whenever i think of cyberspace, first thing which comes to mind is INTERNET. having the opportunity to travel the whole world by just sitting down at home and entering sites to expand my knowledge. i think of cyberspace as a way of connecting to people even if they are oceans away from me. cyberspace made our world a smaller place to be... anne


• Sweden
9 Jun 07
well. ignorance is a part of life. it's who we are in the beginning. but later on, we'll learn more on how to navigate through the net. and we'll see later how good it is to have one...