Is this nice enough?

United States
October 23, 2006 5:52pm CST
Okay, I was suppose to starting keeping my cousins kids. There are 2 boys & 2 girls. She brings them up here when she leaves for work at 4:00 in the mornings. They go back to sleep then i get them up & put them on the bus around 7:00. They get home at 3:00 PM & i keep them till 6 PM. Today was the first time that i had to do it. they are driving me nuts. They want to eat all day, mess the house up horrably & are just generally annoying. (not to be mean, but lordy!) I am suppose to do it today & monday then none the next week. The week after that im suppose to do it Mon.-Fri. I dont want to do it though. I dont like getting up that early & I keep a head ache all day from it. I work from home as a indep. contractor so i do set my own hours but i like to work from 10 PM till 2 AM Now i cant do that. Im not getting my work done. What is a nice way to tell her that after tommorow i dont wanna do it anymore?
6 responses

• United States
27 Oct 06
hey dixie. looks like you already told her from response to #1 you had. You know, there is no easy way to do it. That's it. lol,but don't ever refer her to mylot and she comes across it, lmao! You should get your work done and if they are distraction just tell her, you are having a hard time keeping them in line, and it is hurting your work. Might be the non-chalant way of saying she needs to discipline her children better. That way your still being nice, but getting your point across


•
28 Oct 06
This is not good for the children or you. Tell your cousin that you think that waking them at 4 and then again at seven is very bad for them. If she needs them looked after for that amount of time she needs a live in housekeeper. For the sake of the children and your sanity you have to tell her any way you can.

• United States
28 Oct 06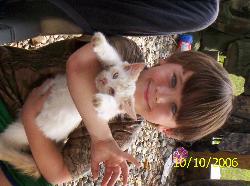 I suggested that she get a regular 9-5 job. Then she could put the kids on the bus. She would only need a baby sitter for about 1-2 hours a day in the evening. But she says that she likes the job that she has now even though the pay is horrable & she would make more money with the job with reg. hours. Go figure. lol.


• United States
26 Oct 06
since there is a week between the times you are supposed to babysit, I say bring this up as quick as possible really, because your cousin has plenty of time to find a new sitter that way..and maybe you could help with that

• United States
28 Oct 06
I would keep my obligation adn keep them this week and next because you already said you would but let her now right away that is is interfearing with your work and think it would be better if she finds someone else. Kids are a lot of work and she proubly realizes her kids are a hadful. Just telll her the truth