Do you prefer instant coffee or brewed coffee?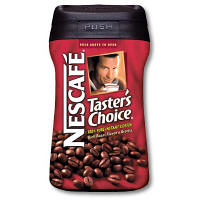 United States
June 9, 2007 1:12am CST
I prefer instant coffee because brewed coffee is too strong for me. And I like the taste of the instant coffee better. My favorite is Taster's Choice.
2 responses

• Philippines
9 Jun 07
i like instant coffee, thes0312 we have the same taste brewed coffee is kind of strong i don't really like coffee strong . . i love coffee mild its the one drink that i look forward to when i want to relax and unwind. nice topic :) its good you opened up something about my favorite drink. Do you like it hot or cold?

• United States
9 Jun 07
I like my coffee hot. It tastes better to me that way. Thanks for the response! :)

• Philippines
9 Jun 07
lolz . . no problem :) hope i made your day even better

• Pakistan
9 Jun 07
Good coffee is ok.but man i love Tea else Coffee.

• United States
9 Jun 07
That's a good choice. Tea is way more healthier. But I like iced tea if I'm not going to drink coffee. Thank you for responding! :)