Have you ever seen a dog being killed for food?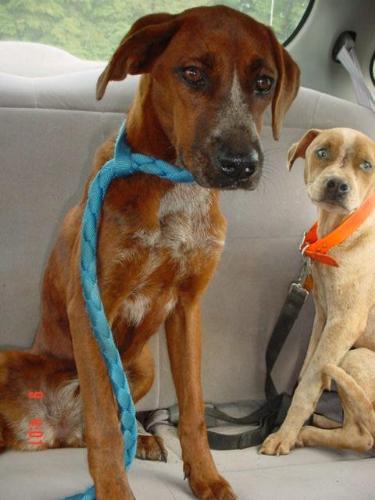 Philippines
June 9, 2007 3:53am CST
Here in the Philippines Drunkard Bystanders dont have money to buy some snacks while they drink. They often kill stray dogs for its meat and this act disgusts me a lot. I dont think dogs were made to be eaten by man becuase I think Dogs and Cats have souls like humans. When I saw my old dog that had been missing for days being tied up on a pole and a man hitting him with a baseball bat I was so furious!But I was only a kid then and they just laughed at me when I tried to stop them. They killed my Jimboole for meat and the sound of his cries and the look in his eyes as we were helplessly trying to get to one another haunts me till this day. The Drunkards who did it to my Jimboole died one by one eventually because of liver cancer, lung cancer the the other one died in prison. I dont want to sound so inhuman but I smiled when I heard about their deaths for me they didnt kill a dog, they kill a best friend.
7 responses

• India
9 Jun 07
Hi neil, as per scriptures it is not sin if the animal is killed for food. Dog meat is philipinos favourite food. Here no one eats dog meat but still sray dogs are being killed mercilessly to control their population. Isnt it better to kill the dogs and eat instead of just killing them.


• India
9 Jun 07
I can understand your feelings and the impression that made on you as a young lad. Such bitter experiences are really hard to forget, but I feel that might be one of the reasons for your love on pets.

• Philippines
14 Jun 07
We used to live in a squater area before when I was a kid. I usually see this stuff in our area. A dog being killed by our neighbors for their "pulutan" while drinking liquors. I don't agree with what they do. Those animals have their own rights like humans do. I can't do anything but to make our dogs safe in our backyard. I'm sorry for what happened to your bestfriend.


• Malaysia
13 Jun 07
OMG~! This is honestly the first time I've ever heard of dog meat! Seriously, I am so shocked! Like, ewww!! I know this would be so totally ignorant on my part, but this is because I never knew such a thing existed. I've never even read of anything like this before. I could totally feel you neil, because I've always considered dogs to be pets and not to be eaten. It's not that I think it's cruel and heinous.. I just think that it's gross to eat dog meat. It would be cruel to take away someone's pet though. If it was stray, then I guess you could kill it. But to eat it?? Hmmm..I don't think so.. Sorry if I'm offending anyone, but that's just my honest opinion.

• Philippines
14 Jun 07
Thanks for your support and your honest opinion, its nice to hear that I have people who feel the same about pets and they should never be seen as a food source. I mean we have lots of kinds of animals as food stuff already I dont think dogs need to be added to man's menu..

• Philippines
13 Jun 07
sorry bout your dog.. i have never witnessed the actual killing of a dog, but ive seen dog meat being sold in the streets (and a lot of "men" are buying).. we have law against that but the authorities are not strictly implementing it! :(

• Philippines
9 Jun 07
I agree with you Neil. I also live here in Philippines and these things are really sucks. Animals should be respect also we use them to become our guard dog at home, as a pet, as a part of the family. How many dogs were been eaten in fiesta, birthday and most often in a small group of people who were drinking around the streets. I hope that one day there will be a provision law that will protect the welfare of dogs and cats whether they were stray or not...

• Philippines
9 Jun 07
Thanks cathz for your opinion. I agree there should be a law for that and I want to recomend that Pinoys should practice neutering and spaying for pet dogs so that they wont over populate and avoid puppies growing up in the streets and becoming problem dogs that will eventually lead to their untimely demise. Dogs were meant to be best friends not as a source of meat but if it cant be helped atleast give the dog some decency when being killed not treated as a sport right? Some drunkards enjoy making the dogs suffer before they kill it that makes me so angry.

• India
9 Jun 07
I have visited the north eastern part of India recently.I have heard from my north east Indian friends that they kill dogs and eats their meat.But this was the first time I had a chance to see it in real life.And very interestingly I had a taste of it.Believe it or not,dogs meat is very delicious.I dont know what people think about dogs.If we can kill cows,goats,hens who are not doing any harm to us,why cant we kill the street dogs and eat them if you are ready to taste their meat....???

• Philippines
9 Jun 07
Very good point but remember the very reason why dogs were domesticated in the first place they were once hunting partners and then became companions for life when we abandoned hunting and replaced it with rearing live stock. Yes it is good to eat dogs if they are indeed abandoned atleast it will give them justice and purpose but as what I said to samson we must make sure first that the poor thing was indeed a stray not someone else's pet.

• Philippines
2 Jul 07
I think here in the Philippines, there is really a culture which includes dog as a specialty meat for food. Just visit the place going to Baguio City and you will see what I mean. there is a line of restaurants there catering to lovers of dog meat. In fact, police authorities were able to apprehend jeepney loads of dogs to be sold to that place. And if you are an Ilocano, you will probably love the meat of the dog cooked as "kinilaw" or "kaldereta". And you will be surprised that they swear of the excellent taste. This is bad news for the dogs.