Sunrise or Sunset --- Which Do You Like Best?

United States
June 9, 2007 5:13am CST
I have always loved watching the sunsets. It's not because I'm not a morning person that I like sunsets because I am a morning person. It's just that I have always liked sunsets more than sunrises. Sunsets are more colorful and more dramatic, in a sense. I also like the idea that it represents, the end of something and the mark of a new beginning. After the sun sets, you see the moon rising, although, technically, the moon is always there, just not as visible as it is at night. I guess it's just the romantic in me that loves sunsets. So, which do you like best -- sunrise or sunset? And why?
8 responses

•
9 Jun 07
I too love watching the sun set, espescially from a Greek island! The sunsets here in the UK can be quite good but it is always satisfying to watch the sun go down over the sea in a warm climate. I do remember one brilliant sunrise though that was absolutely spectaculair, I was in the Shetland Isles at the time and was mad enough to be out camping, the rising sun as I sat there outside my tent making a brew is something that will stay with me forever.

• United States
10 Jun 07
Watching sunsets on a Greek island! Sounds exciting! Maybe someday I could have that experience. Spectacular sunsets that I remember were the ones I watched on campus. Like watching ever-changing paintings.

• United States
9 Jun 07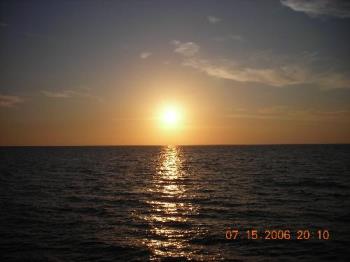 I am like you, I love sunsets. They are just so much more colorful, especially if you can watch them from the beach as they the sun seems to go into the water. Oh such a beautiful site. My only problem is I live on the east coast and don't get to see the sunset over water, but I can watch the sun come up over water. The last sunset over water I was able to see was last year when we went on vacation to Clearwater Beach, Fl.

• United States
10 Jun 07
I know what you mean about sunsets over water. I think it's just more romantic. I used to watch sunsets everyday...it seems so long ago.


• United States
10 Jun 07
I think that's what I love about sunsets -- that they're colorful and no matter how many sunsets you see, they're all so different and beautiful. It's like looking a different painting all the time. And sunsets at the beach are always awesome!


• United States
17 Jun 07
Yes, you can say that I'm more of a night person, too. Thank you for sharing.

• Indonesia
16 Jun 07

hello magicnoire:), Same here i like to watch sunset than sunrise. Mostly i can hardly have the time to wait for sunrise. In the morning i always so busy preparing my self to go to work. And in my day off i like to stay long in my warm blangket. hahah. Since i live near the beach of Kuta bali. i got the most wonderful view of sunset everyday!,:D i thank God for that.

• United States
16 Jun 07
Lucky you -- for living near the beach. Thank you for sharing.


• United States
17 Jun 07
I know what you mean. There's just something about aunsets that I can relate to a lot more and it give me a wonderful feeling inside. Thank you for sharing.


• United States
10 Jun 07
I've always enjoyed early morning jogs -- it's such a great feeling to be out there before the world wakes up and watch the sunrise in an open field. It clears my mind and helps me look at the world in a different light.

• Canada
19 Jun 07
Personally I prefer a sunset. They can be so much more colorful than our sunrises out here in Alberta.