mangoes: do u love it

India
June 9, 2007 8:15am CST
how many of you love mango , the king of fruits........ its the best thing summer gives us, which is otherwise so intolerable...
6 responses

• Philippines
6 Jul 07
I love both ripe and unripe mangoes. I like the unripe one when it was combined with either salt and the ripe one's when it is cold out of the fridge. Then I just can stop eating it when we have lots at home.


• Philippines
9 Jun 07
yes, i love mangoes especially the mangoes in philippines, i love it very much.i love when its ripe and very sweet.

• Philippines
9 Jun 07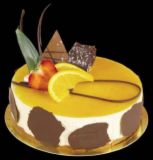 yeah! i so love it too!!! one time, me and my mom experimented on adding mango with cream and condensed milk, and we put it as filling in a cake, thats now one of moms best seller cake at home!

• Singapore
9 Jun 07
Well mangoes is very nice and healthy also , so i recommend people to eat it more frequent yea