Space versus furniture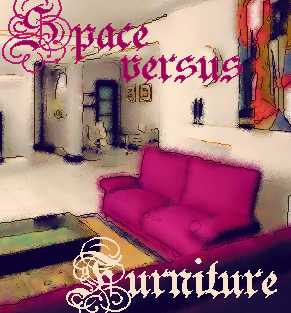 Canada
June 9, 2007 10:42am CST
When you're decorating your house what is you main focus? Do you choose the furniture and decorate around it, or do you choose the space and buy the furniture to complement it without crowding? I need space. Don't really care how beautiful the furniture is, if it crowds me out of the room, I don't like it. For me, less is best at all times. I know that not everyone feels this way. MY in laws, my cousin, some friends... they look at furniture first, like it, want it and then try to fit it around the space they have. The problem is that although the furniture is pretty , whenever I visit I have the feeling that I am being crowded out of the room. I have to dodge table, chairs, sofas just to move around and that doesn't make me feel comfortable in there. What about you, how do you plan your space? Around the furniture, or rather the furniture around the space? Do you fall in love with a special piece and then have to fit it in no matter what? Or have to have some space around you, even at the cost of less furniture?
4 responses

• United States
10 Jun 07
I'd rather have space. I hate feeling "crowded" or boxed in. I always arrange my furniture to allow for maximum space and usage. I don't like walking into a living room, and right into the back of a couch. My furniture is always in a more "open" arrangement.

• United States
28 Jun 07
great minsd think alike.. :) have a good one !!


• Canada
11 Jun 07
More than looking untidy, for me it gives me kind of claustrophobic feeling. Every time I have to move sideways to avoid two pieces of furniture too close together it's like I'm so crowded I need to leave. I always like to have space around me. When we bought this house - together with my in laws - our part was quite big for our needs. It felt good to buy furniture and make it look nice and not feel crowded at all. Then the kids were born and although most of the house is still balanced with space and furniture, I know that the living room is becoming a bit crowded for my taste, I've been thinking lately in all the possible solutions for this that won't compromise the things that we need in here.

• United States
9 Jun 07
I attract, and gather, clutter and stuff. Just recently I have reached the breaking point, and I have several large pieces that are going to have to go. Nothing is really of that much sentimental value. I need space, just have to figure out how to get it real soon. I learned that I can enjoy things without owning them, and save myself a lot of work and money on top of it all. You can hear me shaking off my roots of being owned by things. LOL

• Canada
10 Jun 07
Hehe I know what you mean. Whenever I visit some friends I feel I need to apologize to their prize furniture pieces for disturbing their space hehe They actually have some nice pieces but they don't even shine in the crowded space. Balance is always the key. I"m glad I am not too bad following this I did manage to my home look nice without compromising space. I looked for clean lines and functionality and I made sure I kept space in mind when choosing my furniture. The result was good because I don't feel crowded but I don't feel like I"m on an empty room either.

• Canada
11 Jun 07
I would be more like you family , I see a piece and I want it although I do hate when I feel like I don't have enough space and usually have to get rid of something as I don't like to be cluttered in either but when I see something that I like then yes I want to have it and I can't wait to get it . If I have to then I will fit it in no matter what . I agree that when things are cluttered though they don't look as good as when they are in a room that actually has space to move around in .