Did man descend from the apes?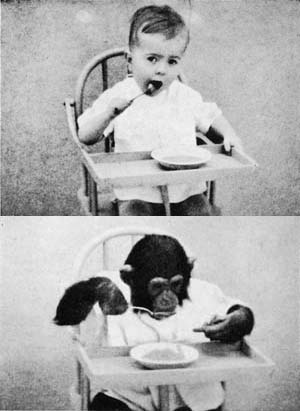 Philippines
6 responses



• Thailand
12 Jun 07
First, as far as I know there is no Theory of Evolution to believe in. Evolution is an objective, observable process which has been proved beyond dispute by anyone but a small lunatic fringe of fundamentalist Muslims and Christians. We and all life on this planet share a common ancestor in the earliest one celled life forms. When we begin to realize that we have a shared kinship with all other life on this planet, maybe we will start to take better care of our home.

• Puerto Rico
12 Jun 07
"It is therefore of immediate concern to both biologist and lawman that Darwinism is under attack. The theory of life that undermined nineteenth century religion has virtually become a religion itself and in turn is being threatened by fresh ideas. The attacks are certainly not limited to those of the creationists and religious fundamentalists who deny Darwinism for political and moral reasons. The main thrust of the criticism comes from within science itself. The doubts about Darwinism represent a political revolt from within rather than a siege from without" - B. Leith, The Decent of Darwin:A Handbooks of Doubts about Darwinism (1982) p. 11

• Thailand
14 Jun 07
One more Creationist writing a book for profit who makes the same claims that were bring made one hundred years ago really dos not have much baring on the subject. Darwin is only disputed by fundamentalist Christians and Muslims who insist that their respective holy books are divinely inspired and literal truth.

• Puerto Rico
15 Jun 07
What ignorance! According to your logic a scientist can only disagree with claims made by other evolutionists for religious reasons. So punctuated equilibriumists and gradualists are in complete agreement! Yeah Ok




• Puerto Rico
10 Jun 07
There is no evidence that we descended from apes or that we share a common ancestor. Nor, as you may have notice, has anybody bother to point to any evidence. There is no evidence that we are slowly evolving into anything else.

• Ireland
10 Jun 07
I am a believer in evolution. I think we and apes share a commmon ancestor, but I don't think directly behind me in lineage is a chimpanzee.