Stuffonmycat!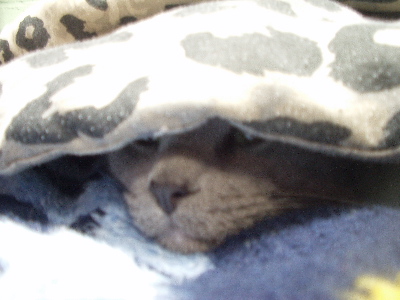 United States
June 9, 2007 3:21pm CST
Do you guys ever visit Stuffonmycat.com?It's the best website ever. Ok, well it's pretty nice. It's a good way to give you a smile on a daily basis. The site started by a guy who liked to put stuff on his cat and has grew to a huge level. He's got books and calendars and all sorts of things. His site has been featured on numerous tv shows and all throughout today's pop culture. I suggest if you've never visited before you should definitely take a gander over at www.stuffonmycat.com. For the dog lovers they've even recently started a sister www.stuffonmymutt.com.
6 responses

• United States
11 Jun 07
I just looked at Stuffonmycat.com and its sister site Stuffonmymutt.com. I love those websites!


• Australia
10 Jun 07
You notice cats don't do websites about people? Now I see why. People don't know how to look that cute. Loved the cat with the cabbage. Did you see the video of the cat that eats with chopsticks, and a fork? This is obviously part of a huge feline media conspiracy.

• United States
10 Jun 07
I don't believe I did see the video. That sounds cool though, I'll have to look it up. I think people can have much more fun with cats and cats are definitely much cuter than most people are. I wonder, if my cat turned into a person if he'd be as cute or not.




• United States
9 Jun 07
aw. Well I hope you get some enjoyment out of the site now that you know its there! I usually visit everyday, especially on work days to give myself a nice smile for the day. Some of those photos are great too. Plus the guys captions usually make the photos 10x better.