The Father To My Children - My Best Friend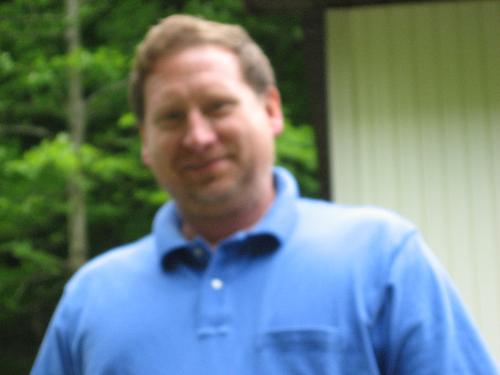 United States
June 9, 2007 8:19pm CST
The wonderful Father in my life is the Father to my children. He has been a wonderful father. This wonderful man taught our daughters to fish, hunt, drive a car and he loved to play with them. He would work outside all day long. Arriving home exhausted from the strenuous work but still took the time to gather his children onto his lap and read them a book. He was the perfect example of a devoted father who loved his family. He made many sacrifices for his children. He was always there to help them bait their hook when they were to "girly" to touch the worm. He taught them to cast their lines while standing in the front yard. By the time they were ready to go on that first fishing trip, they already knew all the basics. They loved to go fishing with their father. This wonderful father would spend his weekends off from work with his children to ensure that they grew up knowing they were loved. He taught them to respect nature and always leave it better than they found it. He was an avid hunter. I remember the first time he took the girls squirrel hunting. They got restless after a few miles into the woods. So he told them to sit on a down log with me until he came back. He left the squirrel that they had already killed with us. We all had allergies so we packed our pockets with tissue. After sitting there awhile, I noticed our youngest daughter had taken her tissue out of her pocket and was bandaging up the wounds on the dead squirrel. It was at that point we realized that she was not going to make a good hunter. This wonderful father took his vacation in August so we could all go camping and learn the ways of the pioneers. The girls enjoyed this time away from the busy ways of life. He taught them to swim, build a fire and how to protect the forest from the fire that they just built. He spent hours with them teaching them things they would need to know to survive in the world. Who could ever forget the first time he let the girls drive the car alone. They were just supposed to back it up. I heard a loud bang and they backed it up all right. LOL They backed it into the outbuilding. He just smiled and went out and backed it where he wanted it. He never gave them a mean word but yet they knew they had better be more careful. They were careful. They never backed it into the building again. I am so very proud of this man. He is not only a wonderful Father but he is a wonderful husband also Our daughters are married now and moved many miles away but when they have a problem with the car or the garden, they call "Daddy". Even today, he drops everything to go to them and help when they need him. Even today, in his quiet gentle way, he is still teaching them that family is the most important thing in our lives This wonderful Father is an even Better Grandfather, he has already begun the teaching of our grandchildren. They just love to go fishing with 'Grandpa'. This Dear sweet man is a blessing to me, to our children and to our Grandchildren. My hero of a Father is my husband of nearly 29 years. He is my best friend and a wonderful influence in my life. Happy Father's Day to my best friend, Roger
6 responses

• United States
10 Jun 07
you are truly blessed ,my friend.I wish all men took their responsibilities as seriously as your husband.I am glad to see that you and he take family to heart. I think it's a shame what's happening to families nowadays and it's refreshingto see a family with such wonderful values

• United States
10 Jun 07
Our family is very important to us. We work hard on our relationship so that each one of us in the family can feel special. It works for us. You should have guessed that from my articles. LOL I am just a plain simple country gal that loves her family and would do anything for them. LOL

• United States
10 Jun 07
i think my family needs to take some lessons from yours,lol. i seem to be the only one that thinks families are important

• United States
10 Jun 07
If that is the case, you just start your own traditions and get the values back on track. LOL



• United States
10 Jun 07
Oh Polly, I am so sorry for your loss and I hope this discussion did not upset you. I do know that you will see him again. He has not left you, he is only waiting somewhere else for a bit. 27 years is a long time. My husband and I have been married 29 years this Dec. I do hope you are happy and hang onto those wonderful memories of your best friend, your husband.

• United States
10 Jun 07
Your story did not upset me, just the opposite. I was so blessed to be blessed with a good marriage. There are so many people in unhappy marriages, thats sad. I have so many happy memories. Time does help, also knowing we had something special helps too. Knowing I was loved helps, even though I miss it so much. I was one of the lucky ones, I was loved body and soul.

• United States
10 Jun 07
I understand that and I am glad you were fortunate enough to find that perfect mate. If you ever need a friend when you are feeling down though... . Just email me. I am a good listener and I dont gossip so your secrets are safe with me. Have a wonderful night.

• United States
10 Jun 07
Awwww thats so sweet of you. My father is not alive either is my mom. But I do think of them alot on these special days. And I dont have any children we really dont even celebrate Fathers Day. My husbands parents are gone too.

• United States
10 Jun 07
Terry, I am so sorry that both your Mother and Father are gone. That must be difficult for you. I learned something this past mothers day. . Can I share it with you?? I learned that just because you did not give birth to a child does not mean you are not a mother figure to other children. this also applies to Fathers. You do have reason to celebrate. You and your husband have each other and that is a wonderful thing to have. I am sure you are a Mother Figure to someone even if you do not know it. And I am equally sure that there is someone who looks up to your husband. I do hope you have a wonderful night tonight. I hope it was ok that I shared what I learned with you.

• United States
10 Jun 07
My dear friend you are so fortunate to have such a wonderful man in your life. Your words tell how much you admire and love this man. Huggers to you.

• United States
10 Jun 07
Serina, He is my best friend. Thanks for reading my tribute to him. How are you doing these days. I miss you.

• United States
10 Jun 07
I am doing well. Just been very busy. You have to prioritize what needs to be done. Sometimes I can get online for a minute or two and sometimes longer. But, mostly I just enjoy being home and the outdoors.

• United States
10 Jun 07
what a lovely tribute! What a wonderful wife you are, and such a marvelous husband...he sounds much like my father. All that and he is not difficult to look at either! you both are quite blessed in each other. It is so refreshing to read a post that is so upbeat and positive... there are too many these days who are quick to complain about their other half finding faults too readily and sloth to reveal the goodness.

• United States
10 Jun 07
Thank you for taking the time to read and to comment on my discussion. I love and admire my husband so much. He is my best friend and I could not have chosen a better father for my children. I do hope you have a wonderful weekend.

• Canada
10 Jun 07
very beautiful, I never had a father and unfortunately, I divorced when my son was three years old and he never had one either.