do u keep notify on/off in your friends list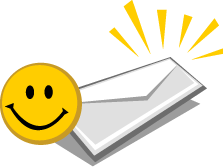 India
10 responses


• United States
10 Jun 07
I have 25 pages and then plus 4 more of friends. I keep all of then set to Notify On. That way when the notifications come to my email they are shunted to a Mylot folder. I can then work on the fold when I have time and get as many as I can done for earnings. Efficient and timely most of the time. Time is important to me since I have a real world life and it helps me to earn and be loyal to my friends the best I can.

• United States
10 Jun 07
Yes I always have my notify on so I no when my friends have a discussion. I have a lot of friends so sometimes it's hard to keep up.But I do try to answer everyone.

• India
10 Jun 07
its nice to respond to ur friend first



• United States
11 Jun 07
I keep all of my notify buttons on. I am answering discussions now from my friends list. I do not always answer every one of their discussions, but this way I at least get to look at each one.


• United States
10 Jun 07
That depends on the friend, I don't always put the notify on. I will start with it on and then change it if I feel it is necessary.

• Malaysia
15 Jun 07
no,i didn't turn on notify to prevent my mailbox get full.i prefer checked my friend's discussion one by one.

• United States
15 Jun 07
I have the notification on for all of my friends and I always have alot of discussions that are waiting for me to response to.