help me choose a song im going to sing for a friend, her wedding day next month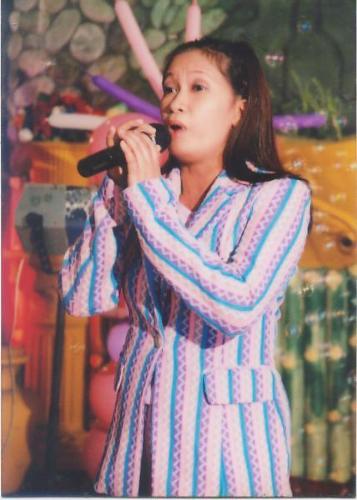 Philippines
June 10, 2007 10:22pm CST
i will sing for her on her wedding day, but it will be a surprise... i want this to be a secret so she does not know that i will be singing. can you help me sorth out a song...and please tell me why you like me to sing that song. thanks in advance.
5 responses

• United States
11 Jun 07
try this one ' I finally found someone' Barbra streisand and bryan adams

• Philippines
13 Jun 07
thanks ibuemma, yes i can sing and yes i hope one day i can invite you in one of my gigs. about your song this is a duet but i will be just singing for her. i once sang this song in a wedding also but i was with a friend and that was his sisters wedding. thansk for the response


• Singapore
11 Jun 07
are you thinking of a slow romantic song like From this Moment by Shania Twain (classic wedding song) or something faster like Everything by Michael Buble (sweet song about a couple)? Another song you can sing is "Three-Part Harmony" if your friend is having a church wedding. Can't quite remember who the singers were for that one. Another classic is "I will be here" by Steven Curtis Chapman.

• Philippines
13 Jun 07
a sang from this moment already on another friends wedding so i will not repeat it anymore. i want something romantic but not so slow song. ill be singing not in the church but during the reception. ill try to practise everything by michael buble, and if it suits my voice then ill go for it

• Philippines
11 Jun 07
i used to play the piano/organ in church. i also played music for my friends who got married.. it's one of those beautiful experiences... you could sing the following songs as the father "gives" the bride to the groom or while the father and bride dances in the reception:butterfly kisses (bob carlisle) and dance with my father (luther vandross) during the ceremony at the church, you can choose from among the following: a moment like this (kelly clarkson),from this moment on (shania twain), because you loved me (celine dion), in my life (bette middler), the prayer (andrea bocelli and celine dion), you (carpenters). at the reception, you may sing the songs already enumerated above and you may choose from the following: you're still the one (shania twain), come what may (revived by ewan mcgregor and nicole kidman), heaven (bryan adams..also revived by nina), my valentine (martina mcbride), the gift (jim brickman), by your side (sade), all my life (america), wind beneath my wings (bette middler) and hero (mariah carey). based on your profile, you are from the philippines.. there are OPM songs that you could also choose from: you are my song (regine velasquez), ikaw, the promise (martin nievera), forevermore (side A), too much is never enough (company). lots of songs my friend to choose from... maybe you can start by relating the songs to the love story of your friend... =)

• Philippines
13 Jun 07
thanks dolce_vita ill try all the songs you suggested but only the single artist. and if it suits my voice and im am confident on singing it then i will choose that song. i sang from this moment already.... in anothers friends wedding so i dont want to repeat it anymore. thanks for the help and thankd for the response


• Philippines
13 Jun 07
its a guy song molusk, can you give me a woman song. thanks. wink wink

• United States
11 Jun 07
There are a couple of things I can recommend for you. Dreaming of You by Selena http://www.youtube.com/watch?v=UVCE1beYCfM You're Still the One by Shania Twain http://www.youtube.com/watch?v=6XENujsU3Wg I Need You by Tim Mcgraw and Faith Hill http://www.youtube.com/watch?v=REA2YYZumDY Loving Every Minute by Mark Wills http://www.youtube.com/watch?v=SNQwtks9OOk Party for Two by Shania Twain and Billy Currington (kind of a more fun song) http://www.youtube.com/watch?v=LlS_HFtYNf8 Let me know if you liked any of these. I know there's a lot

• Philippines
13 Jun 07
yes it is a lot but. and i will try it if it suits my voice but only the solo artist and not the duets. thnaks or the help and thanks for the esponse