Can Graham Ford change India's Fortunes?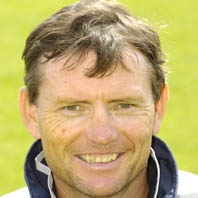 India
6 responses

• India
11 Jun 07
Well It Wont Be the Case As He Refuses To Be Indian Coach.

• India
12 Jun 07
Hi, anyways I don't think we should discuss this anymore since the topic became obselete. He refused the offer and it seems that he just used the offer letter to ask for a pay hike in his present club. May team India get a good coach adn let all of them shine.

•
12 Jun 07
No friends..Ford has backed off..he decided not to indulge in bad indian politics..for this he ignored the high amount he would have been paid for the job..hope that indian team gets a good coach...

• India
11 Jun 07
No Graham Ford won't be guiding india Back to its Winning ways. As he has refused the job of indian coach and will continue working with kent as he ahs contract with them and after talks decided he doesn't want to take job of india's coach.

• India
11 Jun 07
I think he is also going to have the same fate as his prdecessors.Or else the mentality of the Indian players should change.Its not the coach who should be changed.It is the spirit and mentality of the team as such...Lets wait and see how Graham can change them...

• India
11 Jun 07
A foriegn coach cannot make a team like India return to winning ways. If that was the case then India can start dominating world cricket by hiring the coach of Australia ?