Alan Wilder; was he what made the band?

United States
June 11, 2007 7:27pm CST
In 1982, Alan Wilder joined the band Depeche Mode and some say that he is the reason for thier mass success. He joined the group after they had finished their second album, A Broken Frame, but was involved in the producion of Construction Time Again through to Songs of Faith and Devotion. The albums that Alan helped produce have all of the bands most memorable songs, such as People are People, Personal Jesus, Enjoy the Silence, Walking in my Shoes, and I feel you. Infact, Songs of Faith and Devotion was the first DM album that reached number 1 in the UK, Germany, and the USA. After Alan left the group, DM has released three albums, Ultra, Exciter, and Playing the Angel; all three reaching number 1 in Germany, but not doing as well in the UK or USA. What made the numbers fall? Was it because musical taste has changed over the last decade? Or was it really the production ability of Alan Wilder?
3 responses

•
18 Oct 07
Interesting question! Alan is incredibly brilliant (and possibly unhinged, if his work with Recoil is any indication..Heh.), but I don't know that he 'made' the band. He was definitely an important element, particularly as they tried to break away from the lightweight pop sound of their first albums, but to say he made the band would suggest that the band couldn't go on without him---which obviously isn't true. I do think they lost their footing a bit with Ultra, immediately after he left, because it's got some great tracks (It's No Good), but it's also uneven. But I think they've managed to redefine their sound over the years in his absence. He's definitely responsible for the big, epic, heavy sounds from Black Celebration and Music for the Masses, and now that he's gone their sound has changed, which probably cost them a lot of fans. I still love them, though, and Exciter's one of my favorite albums of theirs. (Although, to be honest, I'd LOVE it if they decided to do a reunion. Wishful thinking, I know!)

• United States
22 Dec 07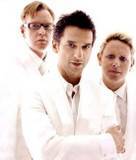 I'm a big fan of ULTRA... I feel it gave voice to a very difficult time for them. And EXCITER, if we were to believe the forum-contributors, is the least favored generally of ALL the albums! Tastes vary so much! Dave's and Martin's solo works also get such mixed reviews from the public... my collection includes all of these as well, and when I listen to them, I'm not listening for DM... I like what they do on their own! The fact is, whether its the guys separately or as Depeche Mode, their music is so personal to each individual, each album a separate story... they can't be pinned down or catagorized, and thats what keeps them great! That, and those kick-a$$ concerts... new album, new tour next year... I can't wait!

• United States
23 Sep 08
I am one of the people who loved Ultra. The band was in a transition period with Al leaving and Dave's issues. Considering all of that, the album was filled with great tracks that showed not only great depth and emotion from Martin's writing but amazing interpretation with Dave's singing. There is a fragility to the record that moves me. All Depeche fans wish the guys would do a reunion.

• United States
23 Sep 08
I honestly do not understand why Exciter is hated so much. Is it because it could be termed a down tempo record? I enjoy down tempo music so that is not a problem for me. Dave's voice on this record is so soothing and sensual at the same time. On When The Body Sleeps it is like he is singing you to sleep. I find I Am You to be such a sensual sexy song. Dave takes Martin's lyrics and makes something that could have very possessive, stalkerish overtones, into something that is possessive but in a loving way, aying we belong to each other and we have admitted it as such.

• United States
20 Aug 07
Its really not a matter of numbers... Depeche Mode has a huge and faithful following, in our family covering 3 generations. Their concerts are always sold out and their albums do quite well, as a group or as solo artists. Because their faces aren't plastered everywhere by their publicists and the 5-minute fickle media, the misconception is that they are 'over'... when in fact Dave Gahan has a solo album coming out in October, and Depeche Mode will release a new album next year!! Devoted fans are already in line for the next tour!! I listen to 'Ultra' almost daily--- its not pop...it reaches into the soul! Alan added a lot to the Mode... but the Mode for me is Dave, Martin, and Fletch--- they don't seem to need anyone else!

• Northern Mariana Islands
26 Sep 07
Hi alamode! It's true that Alan made a "lot" for DM But for me, Alan was a key addition why DM is so huge he did left a void and that is why they added key musicians to replace him. For me, Gore was the key-songwriter, Dave is the showman, Fletch is the business-link and Alan was the control freak on what DM should sound Peace :0

• United States
26 Sep 07
The fact that DM are still here, still commanding a huge following, still turning out great music SINCE 1995 shows that it was more than one person making DM work. I've followed Recoil, I've followed Yaz... but they won't be, for me, what DM is. The magic of Dave as voice and showman, Martin as voice and heart, and Fletch as the glue keeping DM whole and productive and alive, can't be dismissed.

•
12 Aug 07
Ultra sounder similar to 'Songs & Violator' where as the latest two don't, so I think tastes change. Flood also produced there best albums in the 90's.