what specific place you guys wish to visit..?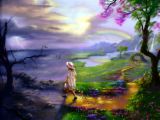 Philippines
June 12, 2007 2:32am CST
me i wanna visit heaven i do know why.. but maybe because i want to see wat it look like? bout you wat places do u wish 2 visit?
5 responses

• Philippines
13 Jun 07
I would like to visit heaven someday...but maybe not that soon...i'm still ahving my heaven here on earth. As for that place i would love to go someday, ahhh, anywhere in the bahamas. I love beaches, i love sand, i love the sand. So yup, i guess i'd want to go to those islands in the carribean, and it would be a plus too, if i get to go there with the man i love.:)

• Philippines
14 Jun 07
hehhehhe .... yea ur ryt i havent think of that b4... hehhe

• Philippines
12 Jun 07
Ahehehe..that would be a nice place to visit someday. For me,i wish to visit places Europe like France,Ireland or Turkey. I've seen a lot of pictures about that places in some of my magazines and its really amazing places to live.

• Philippines
14 Jun 07
lolz..... someday of course we could go places we like to visit... as of now lets start earning big in online marketing... hehhehhehe...wish it could make us rich?lolz

• Philippines
15 Jun 07
I wish i could go to Italy and see Rome and other historic sites and also France so I could visit its beautiful places....

• United States
14 Jun 07
For me, I would like to have a tour around Europe. Ever since I saw "Roman Holiday", I have wanted to go to Europe. It's actually part of a list of things that I want to do, a list I made when I was younger. Well, maybe someday...

• Philippines
14 Jun 07
My gosh, I love to see London, and Paris. I only see these place in a movie. So i love to visit there...I just don;t know when. hu hu hu