New cat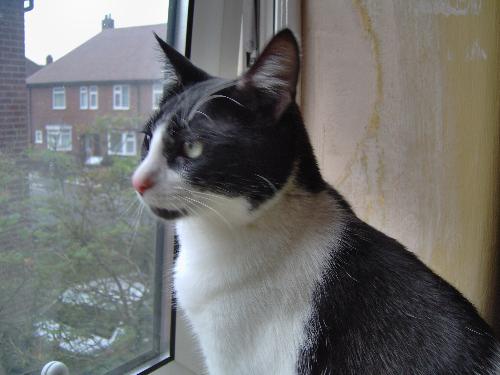 9 responses

• India
12 Jun 07
Yes i am sure this will get better. I also had many pet cats, and whenever a new one joined their community, all of them hissed and growled at the new comer as though ragging him. But slowly they would accept him and would live happily. They would even lick each others' body and play together.

•
12 Jun 07
I'm sure they will. Since he's a young cat, he'll be around for a good while so they'd better! :-)

• United States
17 Jun 07
we have the opposite problem we have 3 cats and when we tried to add another she would growl and his at my cats who just wanted to welcome her to our house. But she did not want anything to do with them. She was a one cat household cat so we gave her to the neighbor and she is very happy. One thing that will help is take something that belongs to the other cats and rub on the new cat. the sooner she smells like the be sooner they will accept him.

• United States
17 Jun 07
It'll take time, but I'm sure eventually they will all get along just fine. We started off with just two cats-siblings Darla and Loki. 2 years later we added an adult basset hound, and the cats lived upstairs for a year! :) Then last year we added Grace-a little gray-blue kitty. I had been afraid that adding yet another pet would set back all the progress we had made between my other two and the dog-but it was just the opposite. Grace and Loki are best friends; they both tolerate the dog even when she drools all over them, and Darla-well, she pretty much still stays upstairs most of the time. But then she never was overly social. She does get along with Grace, though. She likes to chase Gracie under the table, and then strut around like a peacock, with only her tail all fuzzed out.

• United States
12 Jun 07
The best way to introduce a new cat into the household is to put him in a room by himself & let the old cats & the new one smell each other under the door. Then slowly allow time some time to get aquinted. It may take a few weeks, if you are introducing a kitten, it may not take as long.


• Indonesia
12 Jun 07
congrat for the cat.it's pretty normal for the old cats to react like what u said.same like mine too when i added a new kitten in the house.i hope they can accept him soon :))

• Turkey
12 Jun 07
My cats were like that when they first met. Honey had just got used to being on his own after losing his brother, but it didn't take him long to accept Max into the house. Now they both run around trying find each other when they're not together. Once your cats realise that the new cat is staying they will accept him as a friend.


• Sweden
18 Jun 07
Your new cat is so beautiful, the cats will soon get used to each other so don´t worry. They just need to show who is the boss or something like that I think.. - :o)