food for thought,, quotations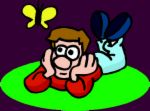 Philippines
June 12, 2007 10:21am CST
hi guys! just thought of creating a thread for those who want to share quotations,food for thoughts,sayings, proverbs and etc...thanks
6 responses

• Philippines
14 Jun 07
There is no scarcity of opportunity to make a living at what you love. There's only a scarcity of resolve to make it happen.

• Philippines
14 Jun 07
Don't run ahead of God. Let him direct your steps. It has plans and has time. God's clock is never early nor late. It always strikes on time.

• Philippines
14 Jun 07
Never stop growing and learning. Never stop smiling and being enthusiastic and never stop loving life. Do you love and love what you do. Treasure the gifts you received from above all. It will survive long after your good health has vanished.

• Philippines
14 Jun 07
Fool your minds on the things that are beautiful. Life is too short to be wasted on worries. Think of the solution to the problem and remain good even if others are not. What came from the earth remain back to the earth and the spirit that sent from heaven, again carried back and is received into the temple of heaven.

• Philippines
14 Jun 07
Life is no brief candle. It's a splendid torch which you can hold for a moment. Make it burn as brightly as possible before handling it on to further generation.

• United States
12 Jun 07
some little bits i've always enjoyed... Life is what happens to you while youre busy making other plans. ---John Lennon The world is round; it has no point. ---Anon